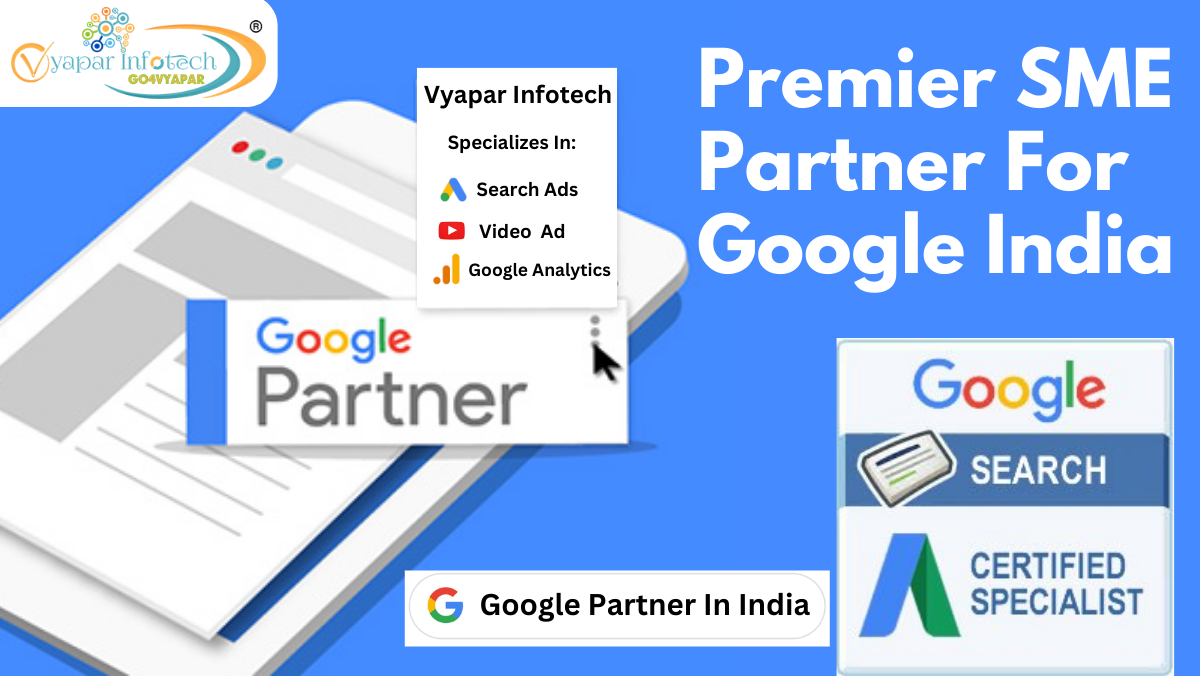 Google Partners In India
Google has several different partnerships with corporations and organisations. These companies and individuals are referred to as "partners" by us. For instance, Google collaborates with nearly 2 million non-Google apps and websites to broadcast content. On Google Play, billions of developer partners submit their apps. Google receives assistance from other partners in maintaining the security of our services; knowledge about security risks can help us alert you if the account has been accessed.
Every agency will need to adopt a different strategy because each is different. Each organisation has its own qualities, room for expansion, and resource abilities. However, many firms' remarkable capacity to expand and change swiftly in a continuously evolving market is what unites them.
Vyapar Infotech is a one-stop source for all of your online marketing needs. It is established in Delhi, serves clients from India and worldwide, and has expertise in digital marketing, web development, design, building mobile applications, and end-to-end IT product solutions.
Undoubtedly, choosing the best Google Partner Agency to accomplish business objectives might be a little frightening for a novice.
By not worrying, let's examine the guidance to help you select the ideal Google Agency Partner and meet your business objectives.
The trick to picking trustworthy business partners is to always conduct research before agreeing to a deal or handing over cash.
There are two ways to determine whether a company is an authorised Google Partner. The first is to look for the official badge on their website; this is frequently located at the end or on one of the internal pages. The areas they specialise in will be listed when you click over the badge.
Experience: A tip for selecting the finest Google partner is to consider their demonstrated skills and professional background. You must also compare agency prices because doing so will enable you to determine whether the cost falls within your allocated budget. For the best price, seek out a partner who can give specific examples of their professional background and recent rising incomes. You can use it to determine whether you are selecting the ideal Google partner or not.
Reviews: Don't be afraid to learn more about the organisation and give it a try. We advise requesting case studies and testimonials from previous clients to support the agency's claims. Additionally, there is no wrong in getting a few references you may approach. With possible new investors, a self-assured Google Partner will gladly offer this knowledge.
Skills: Only if the company has used the same services and skills in its own operations can render impeccable outcomes. Additionally, consumers won't believe unless they can witness success in the business productivity curve of the particular organisation they intend to select.
Authentication: Verify the amount of certifications that Google agency partners have. If you are aware of how many certifications Google offers, it will be doable. Determining whether the chosen Google partner has certifications in the fields or services they provide to their clients is another tip you must remember when choosing the ideal Google partner agency in Delhi.
Google Partner Agencies are companies that Google has approved as reliable and skilled in offering high-quality internet marketing services. By selecting a Google Partner Firm, you may be certain that your team of professionals is knowledgeable about Google products. You will advantage from their abundance of expertise and experience in addition to receiving continuing support from the agency. Working with a Google Partner Agency ensures that your marketing initiatives are constantly functioning smoothly and successfully since they are always accessible to assist you with any issues or inquiries that may come up.
They focus on even the basic components of your online store as a Google Partner Agency in India in order to effectively build a powerful digital presence for your product. Their affiliation with Google Ads Services and PPC Marketing acknowledges their expertise, effectiveness, and competence in these fields. Its aim is to assist your business reach its full potential by converting respectable online traffic into profitable commercial results as a recognised Google partner company in India.
Google elevates its Elite Partners to stronger parameters and standards. After all, it lends the Google name to the businesses and professionals responsible for managing digital advertising strategies. That has certain merits for us, but more importantly, it has many benefits for you.
Increased ROI: Campaigns for paid advertising are a terrific method to connect with your target market. The best use of your paid media budget will optimise your advantages. The small details that contribute to the success of an advertising programme, such as selecting the appropriate keywords, optimising advertisements, examining results, and adjusting your plan, are all things that Google Premier Partners are specialists at. A Google Premier Partner in Delhi has distinguished itself from the intense online competition by consistently driving sales and raising profits.
Boons From Google AdWords Features: Although the Google AdWords interface might seem simple to use, it has hundreds of useful aspects that might influence a PPC campaign. A Google Partner is aware of every feature and knows how to take use of the advantages to lower costs and boost marketing efficiency. A Google Partner can maximise the usage of cutting-edge capabilities like identifying negative keywords and adding dynamic keywords to unlock the AdWords platform's vast potential for a company. Only Google Partners are taught how to use both basic and advanced capabilities effectively.
PPC Expertise: You want to work with a firm that can give the finest results when it comes to PPC advertising. You want to conduct the most successful campaign you can while getting the most value for your money. You'll get help from a Google Partner firm to create the best campaign you can. Their team is knowledgeable with Google Ads and has experience using it. Therefore, you are collaborating with a deeply knowledgeable business in Google Ads.
Enriched Performance: Premier Partners are commended for their capacity to assist clients in achieving effective Google Ad campaign performance and expansion. We oversee sizable periodic advertising expenditures that are subject to direct Google scrutiny and approval. And the money spent needs to produce outcomes. Our campaigns must convert more often. Thus, we must continually check the effectiveness of our ads to ensure that they regularly boost sales. Selecting a Premier Partner assures both their capacity to support your success and your capacity to deliver the benefits of that engagement.
Impressive Customer Service: Being a Google Partner implies that the company is constantly under Google's scrutiny and is required to abide by the company's strict rules. Google occasionally conducts in-depth audits of its partners. This provides a client with a complete sense of security regarding the campaign's achievement. Additionally, customers receive the greatest customer service since Google mandates that its partners provide customer service in accordance with industry best practices.
Access To Beta Features: Due to their flexibility in choosing to participate in beta testing, Google Partners in Delhi have a significant advantage over rival digital marketing businesses. They have access to the most up-to-date and exclusive AdWords features through beta testing of new tools and features. A campaign has the benefit of having a substantial impact through cutting-edge beta features when it has access to the newest elements. Partners have access to such technologies, which in the competitive and ever-changing era of internet marketing, can be a smart play.
Exclusive & Prominent Google Insights: Google provides extra tools to help ensure that their Premier Partners successfully make the most of your advertising spending. Google provides unique access to workshops, training sessions, special events, market research, beta programmes, product updates, and Google support to assist its Premier Partners in maintaining their position at the top. In order to increase your campaigns' effectiveness and outcomes, we constantly have the most recent and cutting-edge Google insights.
For the majority of businesses, Google offers the most effective online advertising tools, with Google AdWords being one of them. Are you currently searching for an Indian partner agency that is Google AdWords certified? Your total visibility would be substantially enhanced by marketing your company online, and Google would be your best option in this endeavour.
You must look for a marketing firm that is a Google Premium Partner. Check for no further than these listed online marketing firms in India for excellent care for your corporation. Choose one of the businesses from the list below if you're ready to run a successful campaign with one of the Top Google Premium Partner Agencies in India.
Techmagnate: After all, Techmagnate is one of those digital marketing companies to reach this accomplishment, making them pleased to be a Premier Partner in India. They are a leading PPC firm and have assisted in achieving amazing outcomes for PPC clients in a variety of industries. They want to assist your business in achieving its web marketing objectives. They will support the planning, execution, and management of digital campaigns that assist their client's businesses grow.
White Digital: They assist brands in obtaining possible results from Google Ads as a dedicated PPC agency or Google AdWords firm. White Digital has earned the distinction of being one of India's top rank holders. It has taken home a number of honours and the Google Premier Partner in Delhi. They offer commercial services and fully concentrate on digital advertising. To operate successful PPC campaigns, they have trained professionals on staff that have an in-depth understanding of Google AdWords.
CENITPRO: The top SEO service provider in India, CENITPRO, is pleased to announce a partnership with Google. Their business has established a reputation as a reputable and well-known Google premium partner company in India with a focus on Pay Per Click (PPC) services. As an authorised Google Partner in India, they take care of every last detail of your web campaign to establish a strong online presence for your company successfully. They are motivated by the purpose of helping your business reach its target segment through effective business outcomes from internet visitors as a renowned Google partner firm in India.
PPC Position: With years of experience managing Google advertisements and SEO, PPC Position has a dedicated team that is certified in Google Adwords. Thousands of companies have benefited from their digital marketing methods. They provide marketing techniques that are focused on increasing visitor performance for any organisation and are ROI driven. The business assists you in increasing leads, site traffic, the production of sales, etc., as well as in obtaining profitable clicks via Google, Bing, Yahoo, social media, etc.
WebHopers Infotech Private Limited: WebHopers is proud to join a network of competent digital marketing organisations as a Google Partner in India. They have succeeded in crossing this threshold to rank among the top elite digital agencies. WebHopers is dedicated to providing the best Digital practises as a Google recognised partner and accredited company in India. One of the early adopters in the internet marketing space, WebHopers has been leading digital marketing campaigns for numerous clients from across the globe.
Summing Up!
Since Google partner agencies have access to the knowledge necessary for PPC success, most businesses choose to engage with them for the administration of their PPC campaigns. These Google AdWords firms, Vyapar Infotech. being one, can assist you with your brand's successful presence on social media because they are Google partners and have the Google certification badge prominently displayed on their websites as a mark of trustworthiness. Vyapar Infotech Partners with Google India as a Premier SME Partner(PSP).