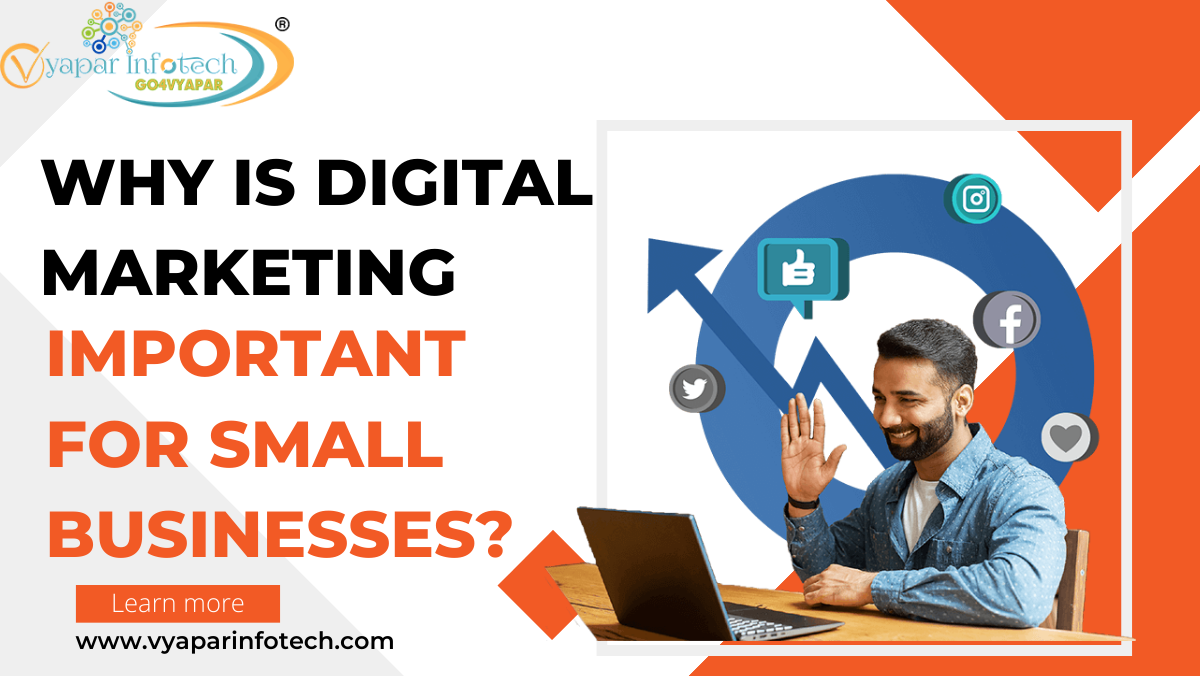 Why Is Digital Marketing Important For Small Businesses?
Organizations have changed the way they operate in the modern digital world. Digital marketing is your ideal option to help your business grow if you are new to the marketing and technology worlds. The relevance of digital marketing for small firms has grown in recent years. But first, let's quickly comprehend digital marketing so that we may grasp why digital marketing tactics are so important for small companies.
Digital Marketing - A Treasure Trove For Small Businesses!
Online marketing, usually known as digital marketing, is a strategy used to digitally advertise a certain company (Services & Products) using the Internet as the primary media.
Marketing can be carried out using social media channels, search engines, and gadgets like phones, tablets, laptops, and desktop computers. Some of the prominent yet crucial aspects of Digital Marketing that every newbie, as well as experienced business owners, should be familiar with are as follows:
In a nutshell, Digital marketing is now essential for a small business to succeed in any particular area. If properly planned, it is less time-consuming and cost-effective simultaneously. With the Internet and other digital communication channels, brands may engage with potential clients and buyers via digital marketing.
Top Reasons Why Every Small Business Must Consider Digital Marketing:
Due to today's fierce competition in the industry, small firms rely on digital marketing to compete with other more established industry giants. Small enterprises rely on the reach of cost-effective digital marketing activities that are accessible to customers with a single click in today's technologically dependent society. Through digital marketing, sales will undoubtedly increase due to your relationships with your audience.
Every small businessman will often have constrained resources. Everyone anticipates receiving their investment returned in full. Digital marketing is a perfect choice; as a result, it achieves excellent ROI. Here are a few justifications for why small businesses require digital marketing tactics.
Creating Connections: Making a solid business case for your product or service is only one aspect of sales; you also need to engage customers and complete the sale. A clear relationship with consumers and communication with them goes a long way. A plan that may minimize errors holds considerable importance in how the company operates by knowing the correct configurations through bonds created with clients. Between customers and the business, it can foster trust and commitment. Positive customer comments and perceptions can also lead to business growth.
Equal Endeavors: One of your problems as a small firm is how to reach a potential clientele. Small businesses find it challenging to succeed in traditional marketing, but digital marketing offers the promise of equality of opportunity. Big businesses and global corporations are not the only ones that use digital marketing. Small business owners may boost their enterprises by utilizing online marketing tactics and channels. One of the most important advantages of using online marketing methods is that it allows your company to interact with a variety of online platform users.
Budget-Friendliness: Digital marketing strategies are not only efficient but also reasonably priced. These strategies will cost you a lot less money than more conventional marketing strategies. The results will be fantastic while staying within your budget. This is the primary justification for why small businesses should spend money on digital marketing. Cost-effective online marketing techniques are available. A digital marketing plan does not require a big financial commitment. Everyone can readily use digital platforms like social media because they don't cost a lot of money.
Competitiveness: The fact that rivals are already operating online must be carefully considered for any firm to succeed. Since they would already have an online presence, small firms must actively watch their rivals and take notes from the numerous digital marketing initiatives they run. To determine what is successful with an audience and what is a resounding "no," measuring a particular scenario type or choosing sample kinds can be helpful. After the benchmarking process is through, small businesses must develop cutting-edge strategies for their own digital marketing campaigns to stand out from the competition. Customers cannot make a decision if they are unaware that a product even exists! It is important to be included on the website if clients start looking for similar goods or businesses.
Reputation: Improved brand reputation follows from expanding market reach and smoothly navigating the path to acquiring financial clients. Customers share opportunities with other customers who are also interested, which strengthens the network of buyers along with their engagement with the business. The two sides of the same coin—online traffic and web popularity—are one and the same for businesses. Becoming a well-known internet magician creates new avenues for recognition and business opportunities. Small businesses want to become well-known, but they must contend with rivals that have already built a name for themselves, are well-respected, and have achieved a specific goal known as brand awareness. Small businesses can now more quickly realize their goal of having a greater brand reputation and popularity via opportunities provided by web recognition.
Measurability: Because it enables you to assess the effectiveness of your marketing messages and initiatives, digital marketing is crucial for small businesses. While traditional marketing results are frequently difficult, if not impossible, to assess, leveraging online marketing channels offers access to data and analytics tools that make it simple to do so.
Operational Consistency: It's more crucial to have a company website than a physical location. Why? Because you won't ever miss an opportunity with a website. 24/7 access is available to your website. Additionally, you can obtain consumer data through live chat, contact lists, etc. For greater information, they can also direct visitors from your website to your social media pages.
Increased Sales & Revenue: You ought to approach your digital marketing similarly to the ripple effect. Once you get going, you can try to reinvest a portion of your earnings into more targeted support, like PPC advertising, to grow to a number that you are comfortable with. On average, effective marketing initiatives typically cost 10% of your sales. For greater revenue, you'll need to invest in digital marketing. You need to strike a symmetry between keeping this at a level that is feasible for your profit margins and isn't overly restrictive.
Competing Other Organizations: Small and new enterprises require a lesser investment with a better rate of return. Only digital marketing makes this feasible because it enables companies of any size to get recognition and expand globally. Without regard to your location or that of your customers, the digital world enables you to set up an online store and a platform for customer interaction. In a relatively short amount of time, the proper digital marketing plan offers possibilities for advertising, running, and analyzing the results. By providing quick, high-quality services to your clients, you may grow your company and compete with bigger rivals while spending less money.
Transparency: Digital marketing enables companies to interact with customers in a more sincere and direct manner. In order to promote a sense of community, business owners might offer a platform for customer feedback. By sharing your customers' remarks and opinions on social media and posting pictures of them, you can create a sense of belonging. But this has the potential to be a double-edged weapon. The experience you provide your clients with greatly influences whether or not they leave positive comments on your publications. However, if it's handled constructively, it can encourage your company to work more and get the finest outcomes.
Multiple Tactics: A victorious digital marketing approach is one that adapts and changes fast as the demands of the company change. There are various digital marketing tactics that various kinds of organizations can apply. A B2B company seeking foreign leads can employ a completely different approach than a B2C local retailer of clothing. While some businesses may benefit more from SEO and content marketing, others will gain from conversion-based ad campaigns. The secret is to constantly estimate the results and, over time, improve strategies and tactics.
Email Marketing: Most people believe that cold email is less productive than other strategies. But is this actually the case? Any email sent by a company to a potential consumer who hasn't previously interacted with the brand is referred to as a "cold email." On the surface, that doesn't seem very encouraging. The digital marketing industry disagrees. It's well accepted that, when done correctly, cold emailing can result in business conversions and sales. In fact, 89% of businesses claim that emailing helps them create more prospects.
Social Media Leverages: You may reach a lot of people quickly with your business by using the growing number of social media channels like Facebook, Twitter, and Instagram. Small business owners and independent contractors could view this procedure as challenging. Even so, there are several social media companies for startups that may help you gain more customers by increasing the visibility of your company on social media.
Takeaways!
You should definitely promote or advertise your goods and services through internet marketing channels in the future because there are so many advantages of digital marketing for small businesses. You must raise your profile, solidify your clientele, and improve sales if you want to succeed as a small business. In a short amount of time, digital marketing may help you connect with thousands of potential clients.
Vyapar Infotech could be a life-changing Digital Marketing service provider for your new or startup business. Get in touch to know more via Vyapar Infotech