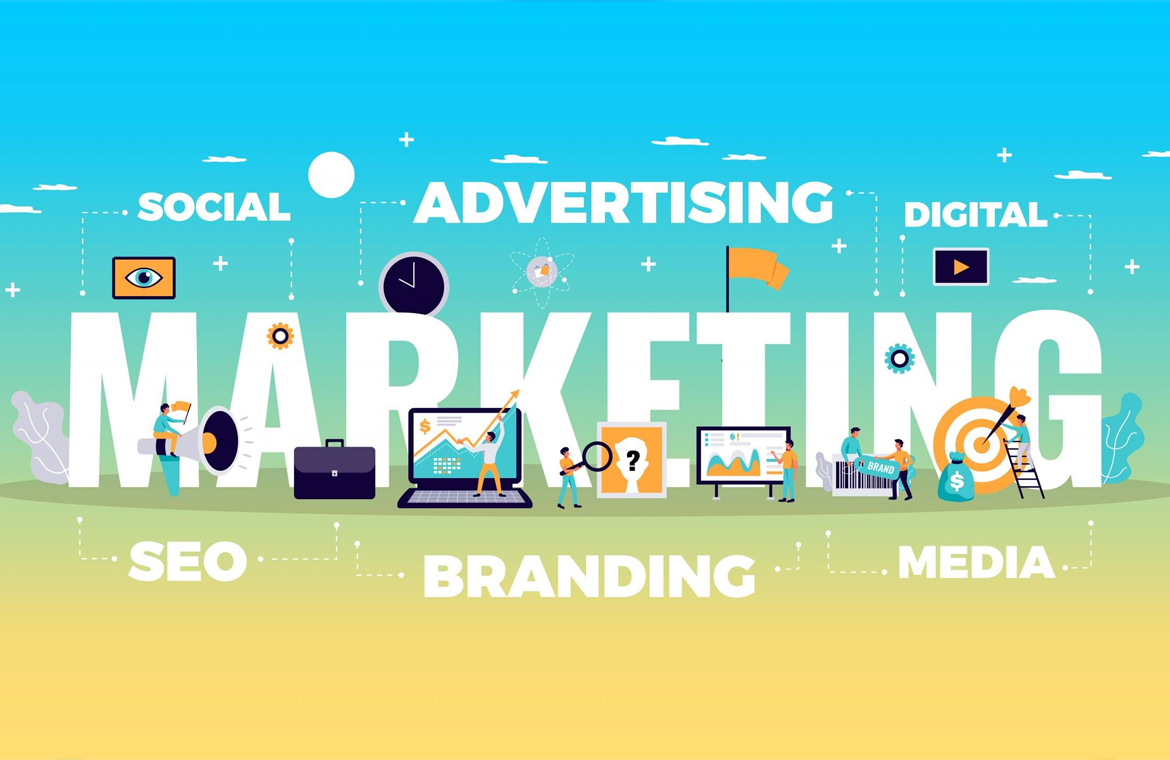 Certainly, digital marketing is daunting and does not work all the time to enable your customers to know more about what your business is all about and why others should give your products & services a try. That's where Best Digital Marketing Agency in Delhi takes place and acts as a paragon for your e-commerce enterprise.
Due to the fact that most businesses and customers now heavily rely on the internet, digital marketing is crucial for a company's success. Because of this dependency and the value placed on having an online presence, it is essential for businesses to do so. Everything is done online these days, whether it's shopping, looking for the greatest college or institution, finding the best product, or anything else. Therefore, firms who want to grow must take advantage of this trend.
Our Digital Marketers & Their Role:
Our digital marketers are in charge of spreading awareness of a brand in the marketplace. To increase brand recognition and produce leads, they employ a wide range of digital media. The company's website, social media sites including YouTube, Facebook, Instagram, and Twitter, among others, are among the digital channels.
The digital marketers' main responsibility is to oversee advertising campaigns that highlight a brand and its goods. They play a significant part in boosting brand recognition as well as generating traffic, leads, and sales. Digital marketers work really hard to comprehend the brand's tone, current trends, choose the best distribution channels for marketing campaigns, and develop digital marketing strategies. In order to optimise marketing campaigns, digital marketing also involves tracking website traffic, finding and evaluating new digital technologies, and using web analytics tools.
Types Of Digital Marketing Services In Delhi:
Yes, all digital marketing services are cost-effective, measurable, and targeted. However, each one has unique advantages and is best suited for particular phases or goals in your company's sales funnel. For this reason, we will discuss all available online marketing options in order to determine which are most effective at advancing your company's objectives.
The main types of digital marketing services in Delhi are as follows:
Search Engine Optimization (SEO): To drive consistent, free, profitable traffic from search engines like Google or Bing to your website from potential customers who are searching for what your business is serving, search engine optimization, or "SEO," solutions are an efficient long-term type of digital marketing services offered by specialised SEO marketing agencies or full-service marketing agencies.
Social Media Marketing:

Nowadays, everyone uses social media, including the clients your business targets, whether they are consumers for B2C firms or decision-makers for B2B organisations. To take advantage of the countless business prospects accessible on each acceptable social media platform for your company, digital marketing businesses offer expert social media marketing services as a part of integrated digital marketing services.
Digital Advertising Solutions:

With the use of digital advertising solutions, organisations may connect with a highly targeted audience to increase engagement and conversion rates. These solutions include pay per click ("PPC"), cost per 1000 impressions ("CPM"), and cost per acquisition ("CPA").
Email Marketing:

By guiding their purchasing journey with promotional content for readily available goods or services, as well as by providing valuable, exclusive content to email subscribers or by disseminating company news and updates, email marketing campaigns and newsletters are an efficient way to develop long-lasting, profitable relationships with customers.
Content Marketing:

Any reputable digital marketing firm will offer content marketing solutions as one of its primary services to produce interesting content that emphasises the advantages of picking your company over rivals and to increase sales.
Top Reasons To Choose Professional Digital Marketing Company In Delhi:
Because it connects a firm with its clients when they are online and works in all industries, digital marketing is crucial. When companies appear on Google through SEO and PPC, on social media through social media marketing, and via email through email marketing, digital marketing services in Delhi connect them with ideal customers.
Below are the impeccable benefits of choosing the best and proficient digital marketing company in India.
Digital Reach & Worldwide Visibility:

With the help of an online store, even a very tiny local business owner may connect with customers throughout the world. With traditional marketing, this is either not possible or would be very expensive to achieve. Businesses now have access to a wide range of potential growth prospects because of the internet. Any firm has a lot to gain from having visibility and a worldwide reach.
Easy Audience Target:

Every campaign is certain to reach the proper audience due to the vast array of targeting options at your disposal. It also helps you examine how client behaviour is changing so you can adapt to marketing. Any business that can swiftly grasp the shifting needs of its clients will eventually succeed.
Content Creativity: The variety of content kinds available to promote your company online is a vital benefit of digital marketing Agency. You can choose from a variety of content kinds for many platforms to maintain the freshness of your brand and create successful online campaigns. In contrast to traditional marketing, it is simpler to copy one piece of content to fit as many platforms as you like.
Improved Conversions:

Online advertising channels are significantly less expensive than traditional marketing methods such as pricey TV, radio, or print commercials. Additionally, it's easier to increase your ad conversion rate than it is with conventional advertising. Because everything happens offline with print marketing, tracking conversion rates can be challenging.
Cost-Effectiveness: Digital marketing offers you cost-effective methods for marketing your company both locally and globally. It makes it possible for even the smallest businesses to compete with bigger ones utilising highly focused methods. The majority of these tactics won't even initially cost anything (such as SEO, social media, and content marketing). However, not all types of digital marketing are appropriate for all types of businesses, and some may even cost more than others. Based on its marketing objectives, a corporation can choose the best options.
Easy & Greater Customer Engagement: The consumer journey wasn't often discussed before digital marketing gained popularity, mostly because it was challenging to comprehend and analyse. After seeing an advertisement on television or in the newspaper, a customer would frequently visit a real store, make a selection, and pay for the item there. However, with digital marketing, we can keep track of every move a customer makes, frequently from the instant they are motivated to look for a service or a product.
Consistency & Measurability: There is a tracking system for each kind of campaign. You'll be able to monitor the success of your campaigns using social media and search engine optimization (SEO). Each campaign allows you to track a variety of indicators. This comprises views, clicks, shares, comments, conversions, and more. It makes it simple for you to understand how well your campaign is doing. Campaign improvements result in tracking your performance. You can determine what is and isn't effective for your company.
Skills Required For Seamless Digital Marketing Services In Delhi:
The technology-driven economy of today requires marketers and business owners to become knowledgeable about digital marketing. The skills needed to thrive in digital marketing are many and varied because the field incorporates traditional marketing, web design, SEO, social media marketing, content creation, and much more. Let's have a look on each of them in the below details:
Content Making: Creating content that attracts a brand's target audience is the core of digital marketing. The goal should be to comprehend the process of effectively engaging audiences as well as to produce high-quality, SEO-friendly content. Making "developing evergreen material" a part of the objective is advised. This implies that the information will still be pertinent to the needs of the customer whether they discover the content today or years from now.
Social Media:

Social media is evolving into a platform for public discourse. Digital marketers can take use of that to provide relevant messages to relevant audiences. The art of social media involves more than just regularly releasing new content. Three more elements that marketers must consider when developing social media strategy are the calibre of the material, its relevance to the audience, and audience participation. Each social media platform has a unique algorithm that enables companies to target their content to a certain audience and obtain accurate statistics. Some of the new tools, such paid promotion, boosted posts, hashtags, and business groups, benefit businesses in establishing their online presence.
Designing & Creativity:

It is recommended that digital marketers have a basic understanding of programmes like Canva and Inkscape, which may be used to create visual material, as well as Adobe Creative Suite (Photoshop, After Effects, Illustrator, InDesign, etc.) It is advised to have a foundational understanding of every ability and to specialise in a select few. As you prioritise developing your soft and hard talents, keep in mind that while the technical knowledge and skills can be learnt, the attributes and qualities required to accomplish the knowledge cannot.
Search Engines Management:

Because Google's algorithm is continually evolving, using relevant and targeted keywords has become increasingly crucial. In order to support digital marketing at all levels, Search Engine Optimization (SEO) becomes a crucial skill for any digital marketer to possess. The team's more technically inclined members can handle the technical aspects of SEO, but for a successful digital marketing campaign, understanding the dynamics of SEO is just as important as understanding how to optimise all types of content. Both SEO and SEM assist you in focusing your consumer base and in pushing your content to the intended audience.
Data Analysis & Management:

Data analytics is the use of practical methods and contemporary software to collect and process a variety of information from various online interactions with your target market. These online engagements may take the shape of web searches, online purchases, content consumption, or other relevant footprints for your company. It is now much simpler for marketers to analyse data and make pertinent marketing decisions thanks to the abundance of web tools accessible to monitor data across many platforms. Marketers need to be aware of the term "data cleansing," which describes the process of removing inaccurate, redundant, or incomplete data from a database. To make wise decisions, it is advised to regularly update the database and remove irrelevant information.
Hiring The Top-Rated Digital Marketing Company In Delhi!
With the highest experience in the IT industry, Vyapar Infotech is building its path of success and innovation. Keeping customer loyalty and trust factors at the front, we are a team of highly proficient digital markets and web designers & developers who are all time ready to put in the best of their capabilities to serve you coveted business results in the provided stipulated time period. We ensure complete transparency in our work throughout and straightforward confidentiality of the business terms for our clients. Choose us today to enlarge your business with skilled & expert digital marketing business solutions in Delhi, India.
Mastering Digital Marketing Strategy: The Key to Business Success!
Introduction: In today's hyperconnected world, businesses need to adapt to the digital landscape to stay relevant and competitive. Digital marketing has become an indispensable tool for reaching and engaging with target audiences, generating leads, and driving conversions. However, with the ever-evolving nature of the digital realm, it is crucial for businesses to develop effective digital marketing strategies to maximize their online presence and achieve their goals. In this blog post, we will explore the key components of a successful digital marketing strategy and how businesses can leverage them to thrive in the digital age.
Define Your Objectives: Before diving into the realm of digital marketing, it is vital to establish clear and measurable objectives. Whether you aim to increase brand awareness, drive website traffic, boost online sales, or enhance customer engagement, clearly defining your goals will provide a roadmap for your digital marketing efforts.
Identify Your Target Audience: Understanding your target audience is essential for crafting compelling marketing messages and delivering them through the right channels. Conduct thorough market research to identify your ideal customer profiles, including demographics, interests, online behavior, and pain points. This knowledge will help tailor your digital marketing campaigns to resonate with your audience and increase the likelihood of engagement and conversions.
Develop a Strong Brand Identity: A consistent and memorable brand identity is crucial for standing out in the digital landscape. Establish your brand voice, visual elements, and messaging to create a cohesive and recognizable presence across all digital channels. Align your brand identity with your target audience's preferences and values to foster a stronger connection and build trust.
Build an Optimized Website: Your website serves as the digital hub for your business. Ensure it is user-friendly, visually appealing, and optimized for search engines. Implement search engine optimization (SEO) techniques to improve your website's visibility in search engine rankings. Focus on fast loading times, mobile responsiveness, intuitive navigation, and compelling content that provides value to your visitors.
Content Marketing: Content is king in the digital marketing realm. Develop a content marketing strategy that encompasses a variety of formats, including blog posts, videos, infographics, and social media posts. Create high-quality, informative, and engaging content that educates and entertains your audience while aligning with their interests and needs. Consistently publishing valuable content will establish your brand as a thought leader and drive organic traffic to your website.
Social Media Engagement: Social media platforms offer a powerful means to connect with your target audience, build brand awareness, and foster engagement. Identify the social media channels most frequented by your audience and develop a comprehensive social media marketing strategy. Create compelling content, interact with your followers, run targeted ads, and leverage social media analytics to refine your approach and optimize your campaigns.
Pay-Per-Click Advertising: Pay-per-click (PPC) advertising allows you to reach a wider audience and drive targeted traffic to your website. Platforms like Google Ads and social media advertising platforms offer robust targeting options that enable you to display your ads to specific demographics, locations, and interests. Develop persuasive ad copy, optimize keywords, and track conversions to maximize the return on your PPC investment.
Email Marketing: Email marketing remains one of the most effective digital marketing strategies for nurturing leads and building customer loyalty. Develop a well-segmented email list and create personalized, engaging, and relevant email campaigns. Provide valuable content, exclusive offers, and personalized recommendations to keep your audience engaged and encourage repeat purchases.
Monitor, Analyze, and Adapt: Regularly monitor and analyze the performance of your digital marketing campaigns using analytics tools. Track key metrics such as website traffic, conversion rates, engagement levels, and social media interactions. Use these insights to identify areas for improvement, adjust your strategies, and optimize your campaigns for better results.
Conclusion: In the digital age, a well-executed digital marketing strategy is imperative for business success. By defining your objectives, understanding your target audience, building a strong brand identity, optimizing your website, leveraging content marketing, engaging on social media, utilizing PPC advertising, implementing email marketing, and continually monitoring and adapting your strategies, you can maximize your online presence, generate leads, and drive conversions. Embrace the power of digital marketing, and propel your business towards growth and prosperity in the ever-evolving digital landscape.

11+
Years Experience

10562+
Completed Projects

100+
Industry Served

115+
Awards