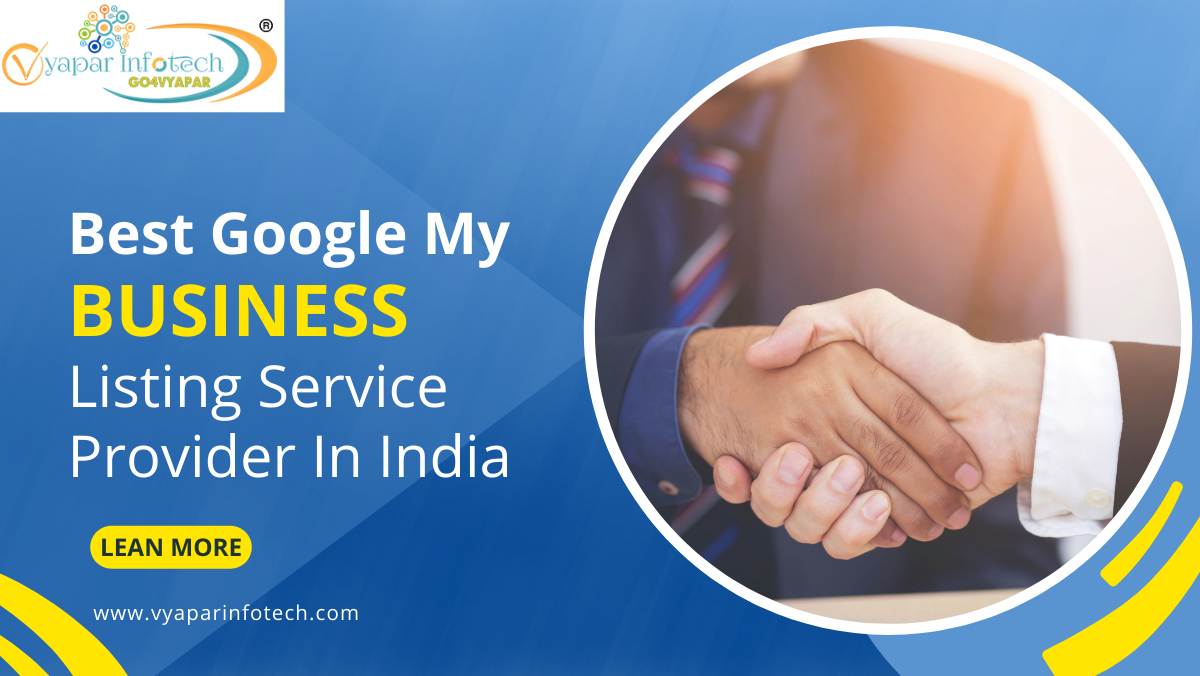 Who Is The Best Google My Business Listing Service Provider In India?
We all know what Google does for us. It is one of the highly used, prominent, and most visited search engines. People all over the world utilize Google for various purposes, such as to search their relevant queries, get more details, or knowledge about a particular topic, and so on. From the latest world updates to entertainment and even education, Google has been a boon for visitors for years. With the evolution of Artificial Intelligence, Google has brought new algorithms for digital businesses to ease their operations and customer engagement. For that matter, you will have to get professional assistance from the best Google My Business Listing Service Provider In India. Let's dig more into the details and requirements of Google Business Profile.
Google My Business Listing:
Before knowing the Top GMB Listing Service Provider In India, it is crucial to understand what this service is and how it benefits an individual business. Google My Business listing, also known as Google Business Profile is a free listing from Google which includes a particular business's details on Google Search, Google Maps, and Google Shopping. It is an incredible and effective aspect of listing your business on the prominent and highly visited search engine to improve your business presence. It also helps provide relevant details of your business on Google such as offerings, services, location, contact, photos, etc. to your target audience.
This enhances the likelihood of your business getting noticed by your customers shortly and via a few easy steps. As soon as the visitors would search for the same services as your business has been indulged in, Google will present them with details of your business as per their searched queries. Also, Google Business Profile is made only for those businesses or organizations which offer consultancy or meeting-based services and the ones having physical locations. A business must have contacts with customers for creating a Google My Business Listing. GMB Listing shows the authenticity of any business and bridges the gap between its customers and the services or offerings.
Vyapar Infotech: A Top GMB Listing Company!
While chasing the best Google Map Promotion Company In India, it is essential to find someone with relevant experience in the niche and expertise in internet marketing. Google My Business Listing is a part of Local Search Engine Optimization and is typically done by specialized digital marketing. The primary purpose of Google's business profile is to generate greater leads, prospects, and clients for the business to eventually expand its growth and improve ROI.
But here the question comes, where can you find the right GMB listing? We have the perfect match for you. Vyapar Infotech is a top-notch, fully certified, dedicated, and immensely experienced IT firm, having a team of Google My Business Experts. We help local businesses to perform all mandatory online activities which boost their brand visibility, and online presence effectively and swiftly. With years of experience managing hundreds of Google Business accounts for different companies, we are aware of every single step and list your business flawlessly on Google. Not only this, but we will also help you optimize your business with the finest internet marketing tactics and must-opt solutions.
Why Choose Vyapar Infotech For GMB Listing?
Are you wondering if getting the best Google My Business Listing Service In Delhi NCR will be worth your business? Well, there are lots and lots of robust benefits to getting a GMB listing for your business. It's certainly going to advantage your business in the long run and would fit in your overall potential marketing strategies.
Here are some effective things we will do for your business when you choose our Top GMB Listing Company to create Google Business Profile for your online brand or services!
Improving Local SEO: The best and most righteous advantage of getting GMB listing done for your business is improvement in the local SEO. Not only on Google search console but also on Google Maps, if any of your potential customers seek the products or services you offer, Google will present your profile for their communication with you. It's a cherry on the cake for your local audience who will get the benefit of reaching you since your store is near to their residentials, your store is opening at a convenient time, and your previous customers have commended your store & offerings. GMB listing is a tremendous and effective way to turn your potential prospects into conversions who seek the same products or services you offer.
Good Command On Your Online Presence: Running an online business appears to be effortless and smooth when you successfully attempt to provide your users with a seamless experience. That's what a Google My Business Listing enables you to do. With apt business information, such as contact details, opening or closing time on regular as well as public holidays, location, mapping, images, and so on, make your customer feel valued in terms of time-saving. Our team of marketing experts will optimize your Google Business Profile at its best to ensure that your business appears at the top of the search results for interested customers. This way, you can get access to complete control over your business's online presence on different social platforms or marketing channels to manage your customers' expectations and shopping experience with the help of GMB listing.
Strengthening Social Presence With Customer Reviews: No effort would be counted if your business fails to win your customers' trust. Vyapar Infotech is a top GMB Listing Service Provider In India which makes sure your customers attain value from your business and ensures they build a stack of positive feedback. Since more than 70% of customers get attracted to positive online reviews by previous shoppers and more than 50% search for them before making the purchase. GMB listing allows your business to strengthen your social presence via good comments and positive reviews posted by previous customers and henceforth move the potential leads toward conversions. Your audience will be swayed optimistically if your external customers have appreciated your business's offerings, experience, skills, expertise, and authenticity. Online reviews bring fortune to even those businesses where their marketing does not turn out plausible.
Today's Customers Are Smart, You Should Also Make A Smart Choice!
Vyapar Infotech is not just a reliable and considered the best Google My Business Listing Service Provider In India but also prioritizes your business's basic to essential requirements. To make sure that your business never experiences downtime in terms of marketing and customer engagement, our team of dedicated experts strives to perform potent strategies, profound research & analysis, and consistent modifications for a seamless business operation.