SMO Services
Expanding your business reach is now effortless with SMO or Social Media Optimization solutions. Vyapar Infotech is a pro digital marketing agency that passionately serves improbable SMO services. Our expertise employs popular social media platforms really well to enlarge your digital organizational presence among the target audience. Using social media networks to manage your online scope and introduce your exclusive offerings is a plausible approach to building a fascinating name with a reputable brand in the competitive era. We implement the best digital marketing practices and success-proven strategies to amplify awareness of your products and services among your ultimate customers and alleviate detrimental news or rumors.
Regardless of the number of social networks a company utilizes, social media management is essential to any marketing plan and can result in a quantifiable return on investment (ROI). Social media panels can help your company grow beyond your dreams and reach a bigger global audience. This method takes a long time to assess a company's market presence. To develop strong ties with your customers, it is necessary to continue keeping an eye on them. You can enhance your aim and ambitions by contacting an efficient Social media Management Company in India if you're a novice to marketing complexities.
For all of your social media management needs, turn to Vyapar Infotech, the leading social media management business. We provide the best services possible to help your company succeed in the cutthroat digital marketplace. We pledge to provide you with 360-degree solutions for your social media management because our offerings cover everything a company could possibly require from a social network.
As a renowned social media management agency in India, we use platforms like Instagram, Facebook, Linkedin, YouTube, and others to drive traffic and raise awareness of your brand. When you employ us as your social media marketing provider, we won't just assist you in promptly connecting with your potential clients. Also, we'll help you capture their attention by sharing interesting and popular social media content. Each of your social media followers will feel more closely attached to your company; as a result, acting as a loyal customer for your services and goods and generating commitment exposure for you.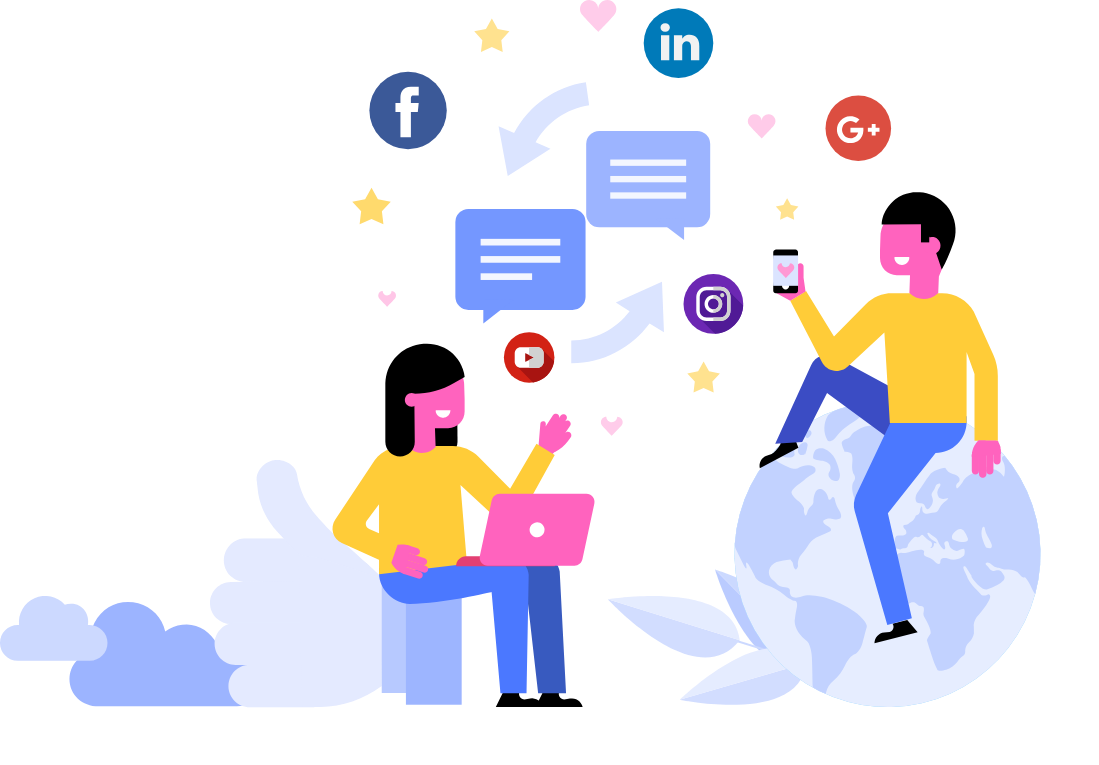 SMO Services
Improvise Your Business Reach With Vyapar Infotech Pros

01
Selecting Right Platforms
Establish the internet authority of your brand by selecting the right and widespread social media platforms. We will choose those social media channels where a lot of people hang out and can grasp data about your business's exclusive offerings.

02
Leveraging Visual Content
To catch the audience's attention, our online marketing experts persistently attempt to create enticing, creative, and unique visual content that directs them to your business page.

03
Encouraging Exchange
Social media are meant to connect and exchange views on diverse subjects. We would make the best use of them for your business or brand promotion and communication with your target audience. Our team encourages employees to share quality content on media to optimize your company's presence.
Social Media Optimization: Your Treasure To Build Digital Reach!
Sturdy Web Presence
We will advantage your business by introducing it to the people and thus, improving your online brand visibility on widespread social media platforms.
Lead Generation
Vyapar Infotech's expertise can help you create a buzz for your business by creating a brand name and increasing lead generation.
Driving Traffic
Tap into our pro approach of social media optimization to drive immense traffic on your business webpage. We invite potential worldwide customers to your business website by employing innumerable social media channels.
Web Ranking
Enrich the search engine ranking of your business site via different social media platforms. Our marketers will acquire data from popular search engines to help you gain prominence among the crowd.