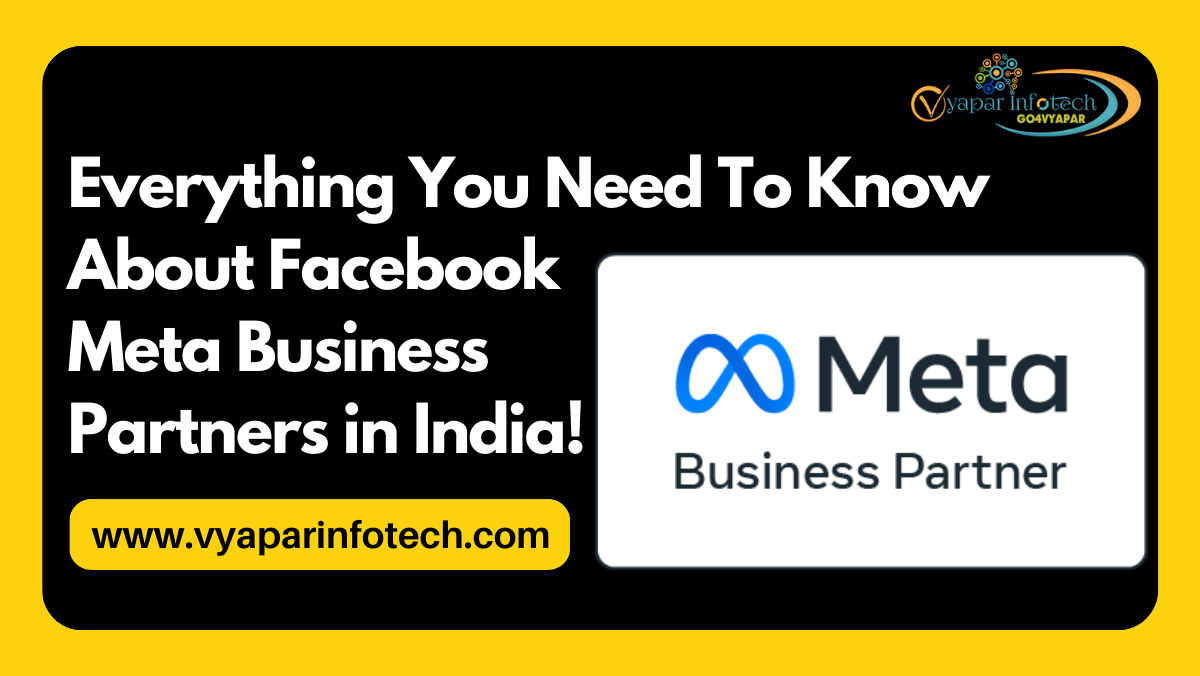 Everything You Need To Know About Facebook Meta Business Partners in India!
A lot of advancement has been seen in the past few decades, mainly in the technological world. Over the years, all such technologies and social platforms have upgraded themselves too. A good example of this is Meta from Facebook. Now you must be thinking about who is considered a Facebook Meta Business Partner Company in India and what it does or if it has a contribution to uplifting businesses in terms of growth and revenue. Let's discuss everything in detail through this post. Stay a loyal reader and get all your queries answered via this single blog.
Who Is Facebook Meta's Business Partner In India?
A Meta Business Partner Company in India refers to an organization that is scrutinized by Meta (formerly known as Facebook). These agencies encompass the right experience and expertise to help various businesses and leading enterprises, which contain digital presence to grow seamlessly. Whether it's a matter of running ads on Facebook, improving customer engagement of your business or brand, or escalating business revenue or ROI; the prominent goal of Meta business partners is to assist online companies in gaining customers and eventually enhance total revenue by selling their products online.
What A Facebook Meta Business Partner Agency in India Does?
A professional Facebook Partner in India is able to work with Facebook on a variety of projects and activities. Some of the most important duties and functions that Meta Business Partners can perform are listed below:
Advertising and marketing: Using the platform's advertising structure, a Facebook Partner in India can design and oversee advertising campaigns on the part of their clients. They can create customized ad plans, improve campaigns, and assess the effectiveness of ads.
Audience Targeting: The Meta Business Partner in India might offer assistance in developing and putting into practice accurate targeting methods for advertising campaigns. They may target specific groups based on their interests, demographics, actions, and more by utilizing Facebook's enormous user data.
E-commerce Integration: A Facebook Meta Business Partner in India can help with establishing and administering Facebook Shops, incorporating e-commerce platforms, and enhancing the Facebook and other social media platforms' purchasing experience.
Data Analysis & Insights: Data access and analysis are available to the Facebook Partner Company in India, which can utilize the information to offer insights into audience demographics, user behavior, and the efficacy of their advertising. They can aid companies in better understanding their clients and aid in the development of data-driven decisions.
Content Making & Management: The Facebook partner company in India can assist with the development, selection, and supervision of content for Facebook accounts. This includes organizing posts, interacting with users, and refining content approaches for maximum engagement and popularity.
Application Development: Using Facebook's Application Programming Interfaces, any Meta Business Partner Agency in India can create programs, including applications for mobile devices and websites. The networking system, data about users, and recognition services of Facebook can be used by these applications.
Find The Best Meta Business Partner Company In India:
Below are certain steps which you may follow to reach out to a top Facebook Meta Business Partner in India.
Client references and testimonials: Ask the prospective Instagram Partner Company In India for client references, then get in touch with those clients to hear about their experiences. To gain a general feel of the partner's reputation and client satisfaction, browse online reviews and testimonials.
In-Person Communication: Schedule an in-person appointment if at all possible to go over what you want in greater detail. You may evaluate someone's competence, integrity, and general suitability for your company through face-to-face conversation.
Check Expertise & Specialization: The Best Meta Business Partners in India may have expertise in a variety of fields, including marketing, advertising, analytics, and content development. Find a partner who specializes in those areas and identify your unique wants and goals to make sure they can offer the best solutions for your company.
Research and Analysis: Begin by thoroughly investigating location-based Facebook campaign experts in India. Search for their website, social networking accounts, case studies, and feedback from customers online. Consider the level of knowledge, experience, and services they provide.
Evaluate Authentication & Certifications: Facebook delivers relationships and approvals to trustworthy suppliers and agencies. Check to see if any certifications or official affiliations with Facebook or other pertinent organizations exist for the prospective Instagram ads agency in India. These qualifications can show how knowledgeable they are and how committed they are to staying updated with market trends.
Vyapar Infotech: Your One-Stop Facebook Ads Agency In India!
If you are seeking a certified, reputed, reliable, and competent Facebook Meta Business Partner in Delhi or anywhere in India and even outside it; Vyapar Infotech is the perfect choice to make. Be sure to work with an adept Facebook Meta Business Partner Company in India to stay one step forward in the rivalries, regardless of whether you are interested in improving your social visibility, reputation, online presence, or digital initiatives. We continually improve your campaign, making the required adjustments to get impeccable outcomes. At last, we expand your campaign such that we are capable of consistently achieving positive results.