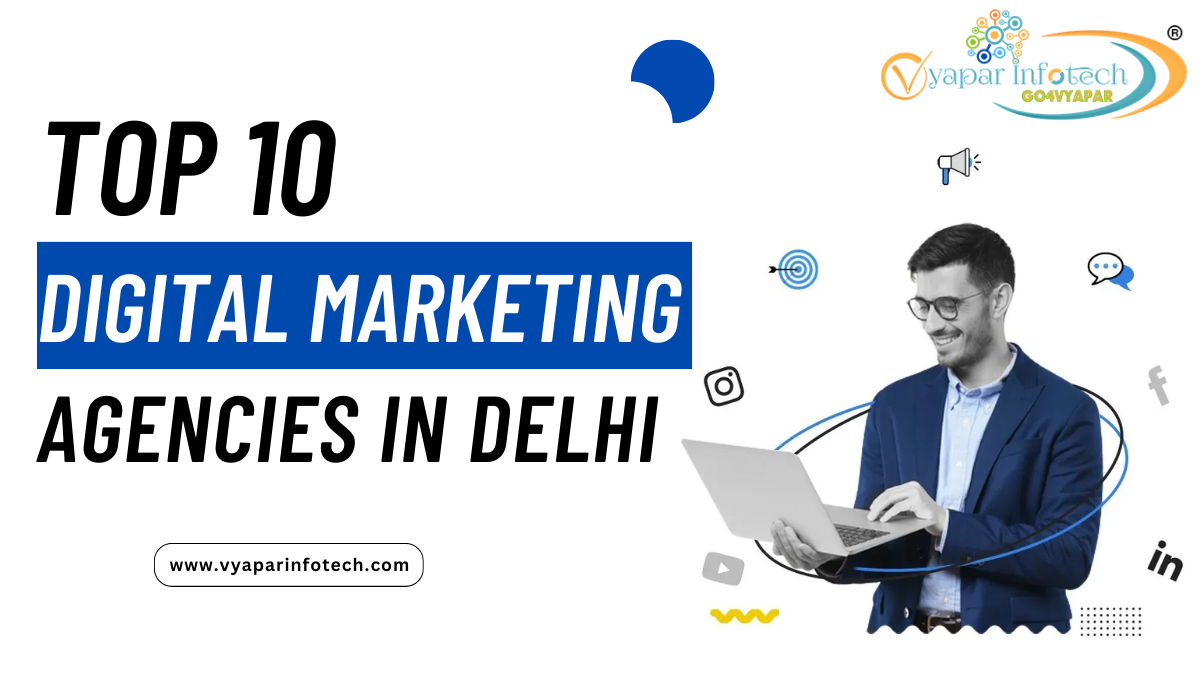 Top 10 Digital Marketing Agency In Delhi
Digital marketing has developed into a potent tool for business and a way to forge enduring connections between companies and their clients. Digital marketing is being used by some of India's most well-known companies to increase sales and reach target markets.
One of the important components of the modern world is digital marketing. With just one click, it enables you to advertise your company, goods, and services across multiple internet channels. The best decision you can make to improve your skills and assist your business in achieving a spectacular and recognized position is to pursue a profession in digital marketing.
Looking for Delhi's top digital marketing firm? You've definitely arrived at the right page. Since not all agencies are reputable. Here we will help you find an apt digital marketing agency in Delhi NCR to suit your business needs.
One of the best digital marketing firms in Delhi NCR is Vyapar Infotech. Here, they provide an exhaustive list of services falling under the category of digital marketing. Our dedicated team is based in Delhi and works hard to give each of its clients an unforgettable brand experience.
Vyapar Infotech provides end-to-end solutions for all of your digital marketing demands. We have a sizable clientele, and some of the best businesses worldwide are using their outstanding marketing services. Visit us to learn more about our services.
Nettechnocrats
The healthcare and medical sectors make up the majority of their mid-market clientele. The Noida, India-based IT company Net Technocrats also has a location in New Delhi. The 99-person company was established in 2012 and focuses on mobile app development, content marketing, and digital strategy.
Aj Marketing
A modest social media marketing company is called AJ Marketing. The company was established in 2019 and had offices in Singapore, Japan's Minato City, Thailand's Bangkok, and Vietnam's Ho Chi Minh City. Their team has experts in a variety of fields, including content marketing, mobile & app marketing, advertising, and social media marketing.
Dignitas Digital
Philadelphia-based Dignitas Digital is a company that develops custom software and handles SEO. Their 35-person team, which was established in 2012, works with clients in the consumer goods, IT, and education industries. Custom app development and digital marketing are examples of services.
EZ Rankings
A digital marketing firm called EZ Rankings has offices in West Chester, Pennsylvania, and New Delhi, India. EZ Rankings was established in 2010 and offers SEO, social media marketing, web design, and conversion optimization services. They provide services to a wide range of clientele in various industries.
Wat Consult
Wat Consult's highly qualified staff guarantees the finest possible outcome for their clients. Regular job openings are available in SEO, social media management, and content creation. They also have a stylish office. But it's not shocking. After all, they are situated at DLF Select City Walk.
Digital Markitors
In Delhi, Digital Markitors is one of the best SEO firms. They have more than ten years' worth of experience. Additionally, they excel at assisting companies that manufacture consumer gadgets and tech in general. However, they never ever overcharge (much alone defraud) their customers, in contrast to the numerous electronic repair businesses that line Nehru Place.
Page Traffic
Page Traffic offers brands precisely what it advertises: online traffic. Additionally, they have a sizable workforce capable of managing numerous projects at once. They are now engaged in more than 4000 projects. This is much the opposite of your previous agency, which required the participation of the entire crew, their families, friends, and even partners in order to complete a single campaign.
Webeesocial
A group of experts in the field of digital who call themselves Webeesocial. They have received numerous accolades for their creativity in the digital sphere. And that includes the ACT Summit's prestigious "Best Digital Innovation" award. Weebeesocial is essentially like Man City winning the Premier League year after year in the ad industry.
Social Eyes
Social Eyes assist brands in creating online communities. Additionally, they employ the most recent techniques to generate interest and spread the proper message. Additionally, they have never missed a social media trend in all these years. You must thus believe them when they claim to have "social eyes."
We are currently experiencing a rapid digital revolution. Therefore every brand and company must now engage in some capacity in the digital realm. However, in the face of rapidly evolving technology and continually intensifying competition, merely "being present" online is never sufficient.
The value of establishing a consistent online presence is growing, but so is its challenge. Because we are aware that the spectrum of digital marketing has a wide variety of unique aspects. It covers a variety of topics, including PPC for eCommerce, email marketing, and content marketing. Thus, If you're looking for the best company from the top 10 digital marketing agencies in Delhi, consider the given below factors.
The first step is to define your goals
You must choose your brand's needs before working with a digital marketing agency. Knowing what you want to do will help you communicate effectively and achieve your goals.
Even before you begin looking for an agency, your business can filter according to internal needs by identifying them. The first stage is choosing your spending limit, but more crucial is knowing why you want to hire them.
Ask to see their latest projects & results.
You should ask for a portfolio of their most recent jobs and projects, which will give you verifiable proof of the agency's expertise. Finding organizations that are willing to share their work and outcomes will be essential to your decision-making.
The most crucial thing is to select an agency that will provide you with a proper approach, a detailed plan, and the precise outcome you're looking for.
How do they run their own business?
The outcomes an agency has produced for itself are among the best indicators of what it can deliver for your company
If you're considering hiring a company to manage your blog, find out how they manage their own blog first.
How do they manage their own social media accounts if you're considering hiring them for social media promotion? Consider all these things before choosing a company.
Make sure the agency is up-to-date.
The living environment is always evolving in the digital age. A fad from yesterday can be outmoded tomorrow. Additionally, it's important for us to develop a flexible mindset as marketers
In this situation, it is crucial that the firm you work with always stays current, pays attention to advancements and trending issues, and includes them into its marketing strategy, especially if it is a long-term plan.
Search Engine Optimisation (SEO)
Writing excellent content that corresponds with searchers' intentions is the crux of SEO. You should have an "intent strategy" and a keyword strategy for the material you publish. You could compare having an agency handle this to asking the agency to take your place. While this is undoubtedly feasible in the long run, the best outcomes occur when the firm actually understands SEO from the inside out; otherwise, your experience may be very different. Additionally, SEO is most effective when your internal staff and the agency work together to create content.
TIP: Inquire about your agency's SEO methodology and guiding principles. If they claim to do and write everything for you, you have internal experience in some areas that would enable you to produce content of a higher caliber.
Content Marketing
Content marketing is connected to SEO. Content marketing is a very particular technique for obtaining links from other websites and high rankings for content through inbound marketing, either naturally or by deliberate outreach and link building. In addition, the material should ideally support email marketing and encourage lead generation. This is a fairly specific skill set, particularly if your agency is also handling the design of your website, developing your digital strategy, etc
Ask your agency about its link-building and content marketing strategies. They may be experts if they focus on producing extremely high-quality material that can outrank other content and promote it through social media groups, blogger outreach, and other strategies.
Testimonials, Reviews, and Case Studies
Of course, you should always seek evidence. Although some good, competent agencies have the "cobbler's child has no shoes" problem—that is, they are poor at handling their own marketing because they are too busy servicing their clients—or they mainly rely on word-of-mouth and referrals—lack of proof might be a warning sign. But even these organizations ought to be able to produce some sort of convincing evidence.
Conclusion
Digital marketing companies take on the responsibility of the company's digital brand image and work with you to increase your online visibility and credibility. However, it's crucial to understand which organizations are best for your requirements. You must be able to choose the digital firm that best meets your needs because each one has a different area of expertise.
With the given above top 10 Digital Marketing Agency In Delhi as a business owner, if you're looking for the best, we would recommend you to connect with Vyapar Infotech today. Access to specialized services like web designing, web development, social media marketing, Paid marketing, Mobile application development, Email marketing, and many more. As we are a reputable digital marketing company in Delhi, we help your company in realizing its full potential.