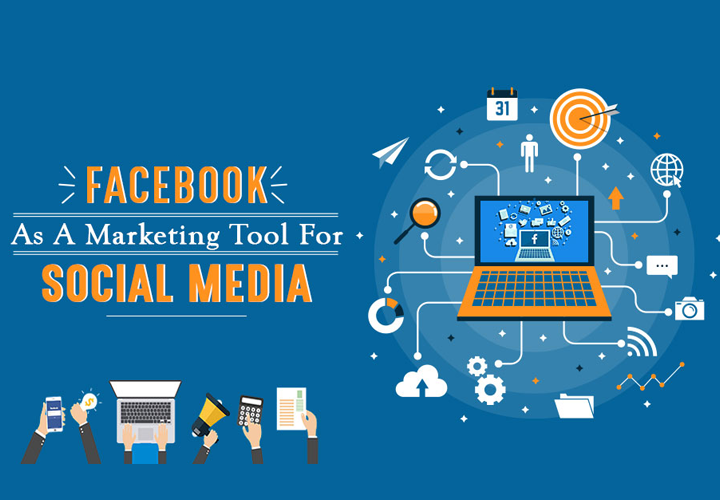 Social media is an integral part of our lives. People are more aware than ever and are active on these platforms. In this race of social media applications, Facebook is at the top with 3 billion users. With that, Facebook's acquisition of Instagram and WhatsApp has strengthened its position in this game. With a base of active users, Facebook is a gold mine for businesses; providing businesses a unique opportunity to showcase their products and connect them to their core audience. Specific audience targeting, effective tools, analytical insights, and a huge active user base make Facebook marketing effective! An effective Facebook ad strategy, coupled with iteration and experimentation, can yield positive results for brands. It takes skill to distinguish yourself from your competitors and make your potential clients notice you.
This is where Vyapar Infotech comes into the picture. With 11 years of experience, we are at the top of our game. We take pride in being the Top Facebook Marketing Company In India. Our team of social media experts develops engaging Facebook advertisements that bring in new business. Our aim is to help business owners like "you" connect with your audience and expand your business presence pan India. Our team has successfully executed Facebook marketing campaigns for more than 10,562 clients.
The benefits of Facebook marketing for your business:
Facebook is taking the initiative to support businesses in India. Recently, Facebook has also launched "Grow Your Business Hub" in India, which primarily focuses on small and micro enterprises in India. The positive initiative from Facebook shows that it is the best time to take your business online. With that there are many other benefits, like:
Identify your exact audience with microtargeting:

Facebook provides various options to target your audience. However, the larger your target audience scale, the more chances of having low ROI( Return-on-Investment); hence niching down majorly results in higher ROI. Facebook Ads allow you to narrow down your audience on the basis of gender, demographic, age, interest, page followers, friends of followers, job, income, recent purchases, and much more.



Variations in Ads:

Facebook provides you with a wide range of ads. You can showcase your ads in Facebook stories or in the Messenger application. With that, you can post feed ads in the form of images and videos. You can also show a series of products in the collection and carousel ad formats.



Easy conversion:

The call to action feature on Facebook is helpful for increasing conversions. It encourages Facebook users to take action, whether it is to shop or visit your website. You can set your custom call-to-action according to the purpose of your ad.



Driving traffic to your site:

Facebook marketing increases your brand awareness, which helps Facebook users get to your website. Also, you can specifically divert your Facebook audience to your website through Facebook ads.



Facebook remarketing:

Using Facebook remarketing, you can show ads to those who have already visited your site. Suppose you're the owner of an online shop. Although people are visiting your checkout page, a large percentage of them are leaving without completing a purchase. It dawns on you that many individuals are almost converted, but you're losing them at the last second. Facebook marketing allows you to retarget the people who have visited your site. Hence, increasing the chances of converting them into potential buyers.
Facebook helps you to build a strong relationship with your audience, which helps you gain the confidence and loyalty of more customers. We are the Facebook marketing agency in Delhi that specializes in creating and managing business advertising campaigns.
Vyapar Infotech Commands Over Facebook Marketing
Advertising is a crucial part of every successful company. Our professionals can help you choose the best advertising formats and develop customized commercials with content that speaks directly to your target audience. Using cutting-edge techniques in audience targeting, we make sure that only the individuals who are really interested in your products see your ads. We will monitor such indicators to ensure future expansion and improve our advertising strategy. Here is our process.
Plan:

We strategically plan our Facebook marketing campaign, considering all the metrics such as sourcing content, optimizing your business page, ad copy, designs, and much more. All these metrics together will make sure to bring profit to your investment.



Implementation:

Our social media experts will implement the planned strategy. With that, they will keep monitoring it and updating the ads to achieve the expected return-on-investment. With that, we re-target the audience that has previously visited your business page.



Results:

In the end, we provide you with a detailed report highlighting the final result and the return on investment. Once we've developed a plan that's proven to deliver results for customers like these, we ramp up our efforts to increase sales.
Vyapar Infotech Commands Over Facebook Marketing
In-feed Ads:

These ads can be in the form of images, videos, lead forms, and carousels (where you can showcase more than two products)



Collection Ads:

These ads show up in the user's feed like a carousel. However, when the user clicks on them, it takes them to an immersion experience where they can see the whole catalog of products and services.



Stories Ads:

Commercials that take the form of stories are entertaining ways to disseminate and absorb information. First of all, the vertical and full-screen orientation of Facebook Stories makes for a more organic user experience. Second, the message is conveyed rapidly via narrative.



Messenger Ads

Facebook allows you to place ads in the Messenger app. This can be two ways: First, Messenger advertising in the user's inbox may show between purchases. In addition, Messenger advertisements may appear in the user's inbox in-between individual stories.



Event Ads:

Events Ads are a great tool for advertising your upcoming events and bringing the desired audience for the same. Facebook events are a great way for businesses to promote and increase attendance at their upcoming events.
Vyapar Infotech is the leading Facebook marketing Agency In Delhi. We understand the nature of your business and will help you to establish your vision. Together, we will work on the best Facebook marketing strategy that meets your needs.

11+
Years Experience

10562+
Completed Projects

100+
Industry Served

115+
Awards