Responsive Web Design
Vyapar Infotech is a scrumptious responsive web design company in Delhi. It fits the current business needs and requirements very well. We have almost every treasure or weapon that boons your company with a leading name, fame, productivity, and reach. We majorly focus on building a responsive website for those who quest to enrich their organization's quality and brand with its outlook. Our customized screen sizes and new-age approach is accessible to popular search engines and other platforms where your brand can create a difference through its astonishing identity.
We frequently make errors in creating and designing a website that rarely appears good. A reputable, responsive website designing company, Vyapar Infotech, strives to offer top-notch responsive web design services. However, the word "responsive web designing" encompasses many more elements. Thus it takes considerable skill and extraordinary intelligence to produce a standout responsive website design. All such requirements are well known to Vyapar Infotech.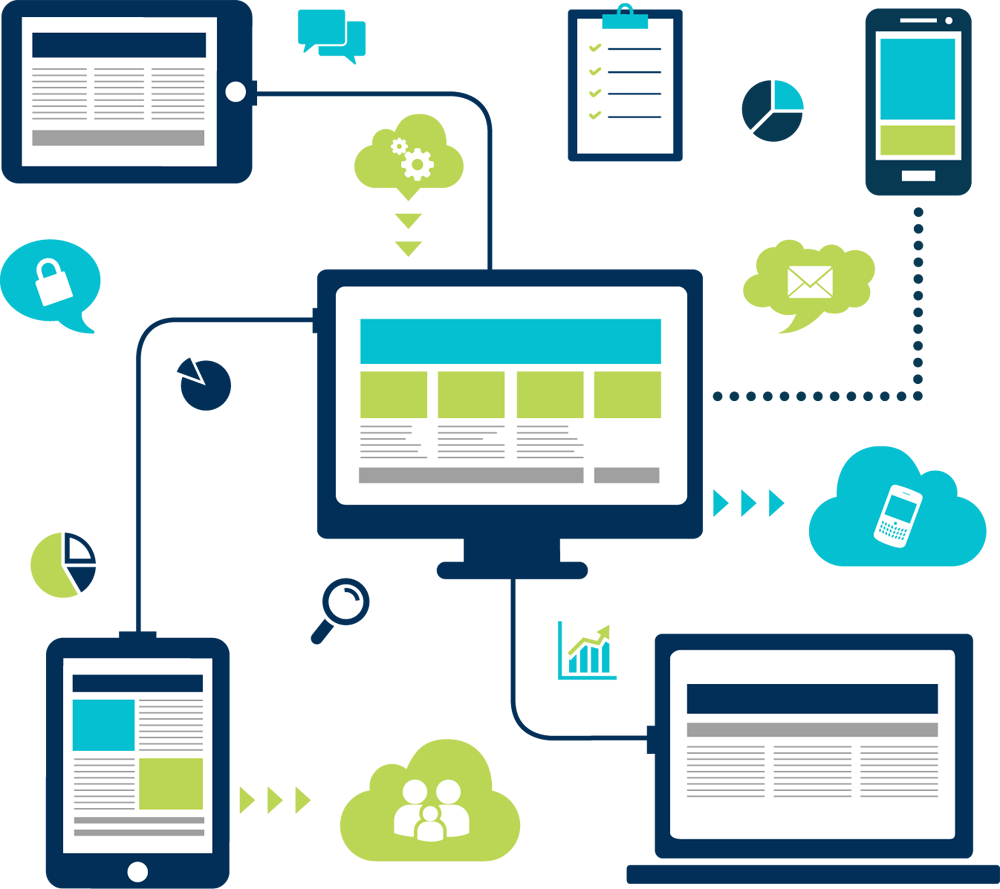 Modern responsive web design services are centered on functionality and appearance. Our competent web designers meticulously collaborate with our team of developers to ensure that the design is appropriately integrated with the user experience and usability. Our web design solutions may provide your visitors with the best user experience possible by employing years of industry knowledge to create adaptable and user-centric websites. Contact us, your reliable, responsive website designing agency in Delhi, now if you require a qualitative responsive web design that is new and unique. Additionally, if you're looking for a digital marketing company to increase your visibility, effectively advertise your company, and boost your sales, you're in the perfect place.
Websites are particularly user-friendly because they easily adjust their framework to fit multiple screen resolutions. In addition, these websites have been thoroughly tested in a variety of browsers to deliver impeccable results to all potential businesses out there. In order to make your web pages suitable for all platforms, including iPhones, smartphones, tablets, laptops, and obviously computers, Vyapar Infotech designs them utilizing the most recent bootstrap software.

01
Media Query
Responsive web design is a website framework that hides, shrinks, moves, and adjusts content on your website depending on what device your visitor is reading on (a smartphone, tablet, laptop, or desktop).

02
Web Browser
"Mobile-friendly" simply means that your website's content and assets are accessible, legible, and usable to visitors on a smartphone.

03
Web Interface
If your website is not mobile-friendly, contact Blue Corona. Our team of professional digital designers is ready to create a beautiful, lead-focused, responsive website for your company.
How Responsive Website Creates Difference To Your Business
SEO
Maintaining a separate mobile site requires additional testing. Having different desktop and mobile sites also necessitates two content strategies, two administrative interfaces, and potentially two SEO campaigns.
Low Bounce Rates
Responsive web design is an essential feature of search engine optimization. Using a responsive website rather than two separate desktop and mobile versions avoids the issue of duplicate content,
User-Friendly
A responsive website provides a much better user- friendly experience for the visitor. Therefore, visitors will stick around for a longer time and explore different areas of your website.
Effortless To Manage
The first impression lasts long, so if someone visits your website for the first time, you want them to stay longer. If the audience does a lot of shrinking and zooming on their screen,