CMS Web Development
Connecting with Vyapar Infotech CMS Web Development Agency in Delhi means connecting with the top-of-the-line web Development service providers. CMS has become one of the most revered platforms for unique yet creative website development parts. This is the prominent reason why worldwide investors, business leaders, start-up owners, and advertising companies are switching to this platform without a second thought. It offers dextrous benefits to the business as it renders what the business's basic need is, website development from scratch. We are the right people who can guide you from every nook and cranny to ensure you successfully achieve your business targets without any hurdle. We are the Best CMS web development company in Delhi, serving to get your website presented splendidly in front of the audience.
Generally, a framework for managing website content is the content management system or CMS. The clients may add, change, or distribute the substance. The CMS configurations contain a back-end, generally referred to as the Administrator end, with various actions that allow the composition to be changed. The client can view a responsive plan that can fit into any screen size with little to no difficulty with the help of the CMS.
Having control over your content is just one of the many benefits of adopting a material management solution (CMS). Users with different access privileges can govern or use the data, assets, and content of our incredible CMS Web Development Company. The process of CMS web creation is simple and secure because of innovative characteristics like SEO friendliness, simple programming, intuitive user interface, quick technical implementation, etc. In order for us to handle your organization's and its users' demands in an agile manner, it is crucial that you fully understand them. We're confident that Vyapar Infotech can optimize your system for the best performance, whichever CMS and web development services you require.
In India, we are the best CMS web development agency. We utilize the top techniques in the sector to deliver sustainable and robust content management solutions for a wide range of major industries. Our team of CMS pro employs the most upgraded technologies to build feature-rich content management solutions for various platforms. Our team is not only knowledgeable and skilled, but it also thoroughly examines all of the fundamental to sophisticated procedures and techniques used in this process of using our content management solutions. High-end solutions to all problems relating to content management are part of our CMS design service. Our services are designed to help your business expand in some way. Since we have been operating as a reputable CMS service provider in India for a long time, the market highly respects our name.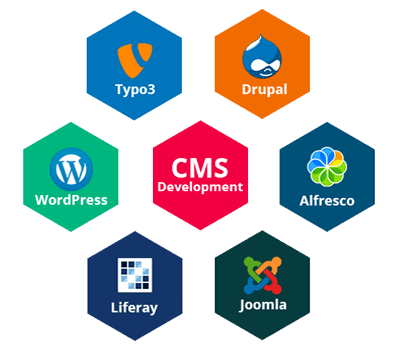 CMS Web Development
Incredible Advantages Of Vyapar Infotech CMS Web Development

01
Less Time & Effort Taking
CMS web development is the easiest to update. Anyone with a little marketing and development knowledge can perform this task flawlessly. However, our brilliant developers believe in catering the best for you every time.

02
Versatility
Your long-term goals are eventually your trending brand name and good market reputation. CMS website development makes this way easier to achieve with high flexibility in website designing and customized functionality.

03
Web Analytics
Even if we know a little about development and digitization, our web analytics can show you everything you quest for. From viewing the website traffic to acquiring the social platforms knowledge
Project Comprehension
Once you connect and contract with us for your business deal, the very first task our specialists intend to do is your business comprehension.
Implementation
Nevertheless, execution and reporting are prominent in every business regardless of its type, size, and density. We ensure complete transparency in our business terms
Quality Results
Last but not least, quality results are the ultimate milestone your business and we desire. Our agile and tested methodologies provide a framework