IOS App Development
From choosing the right programming language to making mobile applications for Apple hardware, we are a one-stop destination for all mobile development business needs. Our highly knowledgeable team of developers identifies your requirements closely and opts for the best programming languages to meet your business goals for building new IOS applications. We are expertise in hauling from cloud-based resources for iPhone, iPad, and iPod Touch applications. We intend to put in the proper planning and suitable resources to develop IOS applications for all leading enterprises irrespective of their type, industry & reach. In less time only, Vyapar Infotech has proved its strength by developing various easy to complex IOS applications to meet the unique needs of businesses.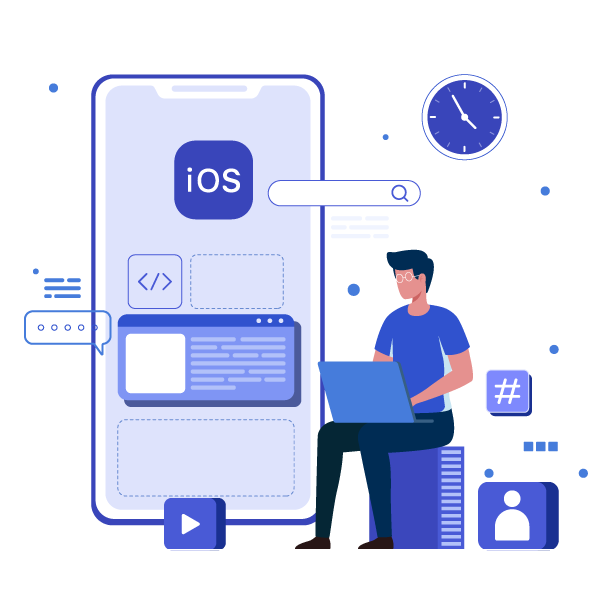 IOS App Development
Benefits Of IOS App Development

01
App Revenue
iPhone apps are skyrocketing in the market than android applications; let us generate immense app revenue for your business.

02
Quality Standards
With flawless performance and amazing experience, we are committed to rendering high-quality IOS app development.

03
Customer Base
You can feasibly establish a strong customer base with powerful IOS app development.
Choose Expertise Laced With IOS Skills
Design Patterns
Our IOS developers are completely familiar with all types of development and design patterns, including MVC, KVO, and delegate patterns.
Networking
We feel delighted to have highly skilled developers who better know writing the app-side code for communicating.
Performance
Our development expertise employs the best instrumental tools for performance issues. They also have precise knowledge of resolving all such issues.
Management
ARC is imperative for memory management to acquire knowledge for retain-cycles prevention, dealing with segmentation faults, etc. We are highly experienced in memory management.