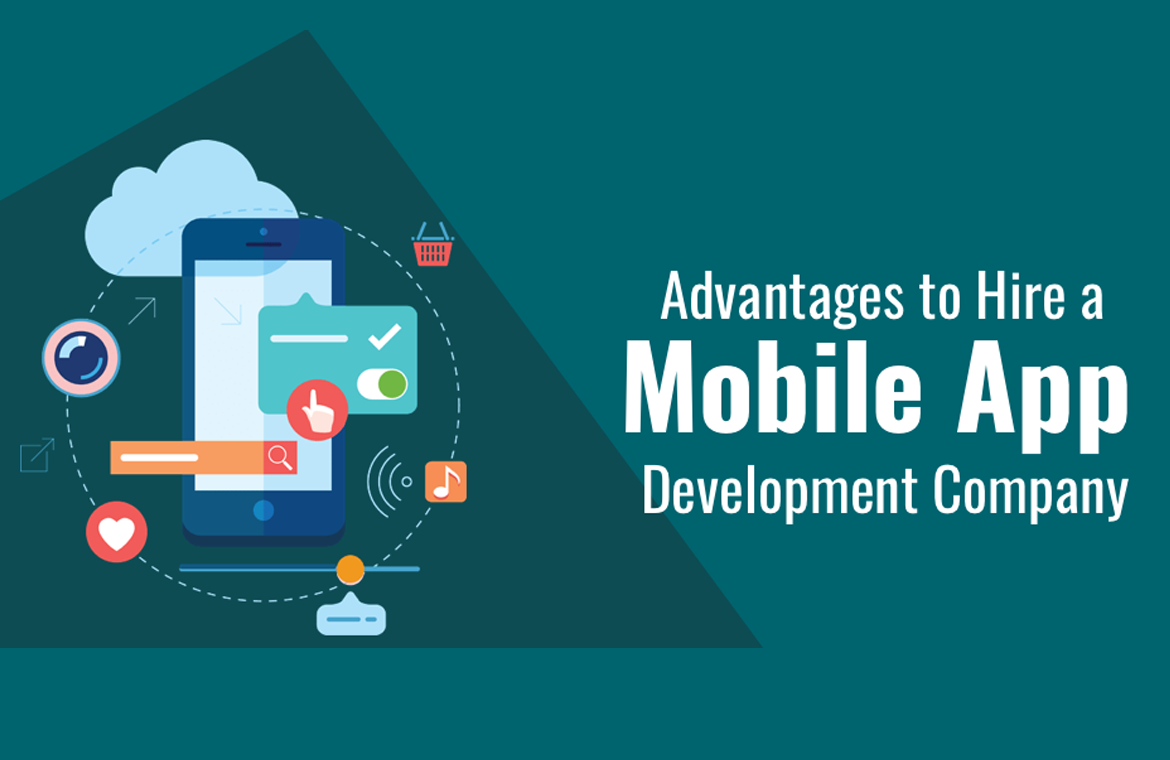 In this evolving time, where everything is just a call or connection away, people are so dependent on the internet. Certainly, there is barely anything that couldn't be achieved with the help of the internet. That's why almost every business keeps its customer interaction on top, which is better possible with a competent mobile app development company in Delhi. While complementing web solutions, mobile applications facilitate effective and efficient customer engagement with a particular brand or service.
In simple terms, web visitors can promptly connect for their queries, solutions, or purchases via mobile applications. These app development solutions encompass creating iOS and Android applications that are to be run on mobile platforms to track purchases, inventory, and other such updates using the mobile only.
Benefits of Choosing Mobile App Development Services In Delhi:
Creating a unique mobile application not only keeps your company current and at the forefront of emerging technologies. But they also support strengthening customer bonds and fostering brand adherence. Here are six reasons why your company needs contemporary custom mobile app development services in Delhi right now, regardless of whether you're planning to construct a mobile app or are prepared to update your present one.
Builds Customer Relationship:

Our visitors no longer desire to wait while websites load. They desire instant, simple access to your company at the push of a button. An efficient method to provide clients with the information and services they need right away is through a personalized app. Apps are another tool for interaction. To increase engagement, several firms provide promotions and deals that are exclusively available on apps. These loyalty programs are a fantastic method to draw in and keep customers.



Improves Business Visibility: There has been a significant change in how individuals search for goods and services over the past several years. People now prefer to search things up on their cellphones while traveling, waiting for an appointment, or even just for fun, as opposed to the traditional methods of asking about and perusing websites. A wonderful marketing technique to take advantage of this development is mobile apps. Ultimately, a proficient mobile app development company in Delhi attracts the target audience's attention and raises your company's general visibility.


Incredible Marketing Tool:

Your marketing communication demands are improved by a personalized mobile app. You may manage engagement tools like contests and campaigns as well as specialized messages, contacts, team information, and even contact information. They can be customized with your logo, taglines, and colors. Customers are more likely to remember your brand in the long run if they interact with your app, recognize your marketing materials, and participate in campaigns.



Cost-Effectiveness: Mobile apps can reduce the costs of marketing campaigns and deal with the requirement for real promotional items. Even internally, mobile apps can help you save money. Mobile app development services in Delhi can increase employee productivity by boosting communication, reducing repetitive tasks, increasing engagement, and streamlining data. In the long term, this saves a large number of dollars. Additionally, by targeting their ads to in-app purchases, businesses can generate revenue from their apps.


Boosts Awareness & Generates Revenue: Potential clients are more likely to use their smartphones than a laptop to search for a product or service when they need it. According to research, most searches are done on mobile devices rather than laptops or desktop computers during downtime, such as while people are traveling, interacting with others, or waiting for appointments. The existence of a skilled mobile app development agency in Delhi for your business will undoubtedly influence the customer to choose you for their purchase because apps are speedier, more interactive, and simpler to navigate than websites. The primary takeaway is that while social media, in particular, helps to raise brand recognition on websites, apps are where the majority of sales are made.


Customer Loyalty & Brand Recognition:

It is impossible to overstate the value of an app in helping your company stand out from the crowd. Having an app for your company can help you attract clients and take up a sizable portion of the market, as applications are still quite uncommon at this moment. When your rivals figure it out, presumably by then, you've successfully managed customer engagement and developed a devoted customer base.
6 Steps To Mobile App Development Services In Delhi:
Typically, the software development process is lengthy and arduous for a fully-skilled mobile app development agency in Delhi. However, project managers and system analysts can use software development life cycles to more regularly outline, design, develop, test, and eventually deploy information systems or software products.
The modern system development life cycle has six primary stages. Here's a brief overview:
Planning & Research:

This will theoretically catch problems before they affect development by creating an efficient layout for the upcoming development cycle. And assist in securing the funding and resources required to carry out their plan. Perhaps most importantly, the planning stage establishes the project schedule, which is critical if the development is for a commercial product that must be released to the market by a certain date.



Analysis:

The analysis step entails compiling all the relevant information needed for a new system and coming up with the initial prototype concepts. Additionally, a software requirement specification, or SRS document, is frequently produced by developers. This details every requirement for the system they intend to develop, including software, hardware, and network requirements. This will stop them from using up too many funds or resources while working alongside other development teams.



Designing:

We will only briefly touch on some of the most significant elements in the design phase of the creation of an app. First, it is up to your UX and UI designers to improve the wireframes that have already been authorized. This entails UI element placement and design, user flow definition, a comprehension of element hierarchy, etc. You should now create high-fidelity mockups that your developers may use to create a functioning app. These mockups should also include information on what happens when objects are tapped, swiped, dragged, etc. If you don't yet have one, you should create a brand guideline to ensure that your app's identifier is well-understood by both your designers and developers.



Development:

The database administrator creates and imports the appropriate data into the database during this stage. Requirements define the languages used in programming. The interface is built by developers who also perform unit testing in accordance with the coding standards. This stage is crucial for developers. If the business analyst makes any modifications, they must be adaptable and open-minded.



Testing:

Substantially, testing happens concurrently with the development phase. To keep post-release costs down, testing must be ongoing. To make sure that any serious flaws or oversights are fixed as soon as possible, unit tests, UI tests, and integration testing are required. Test cases can lengthen the development process, but over the long haul, they can significantly cut down on the time and cost associated with maintenance and support. Testing will also be beneficial later on when your software is being maintained. Without needing a person to manually go through each test case, you may run all of your test cases after making a tiny change to see where your modifications might have impacted other areas of the system.



Maintenance:

The time has come for developers to enter maintenance mode and start practicing any tasks needed to address concerns reported by end users. Developers are also in charge of making any modifications that the software may require after it has been deployed. This can involve fixing remaining flaws that could not be fixed prior to launch or resolving brand-new problems that emerge as a result of user complaints. In comparison to smaller systems, larger systems could need more extensive maintenance phases.
Types Of Mobile App Development:
Every year, there are hundreds of new apps on the market, and the need for "mobile application development" is only growing. Even if we are familiar with operating systems (such as iOS and Android), it's likely that we are unaware of the precise technology platforms that software developers utilize when designing and developing apps. Let's understand the three types of mobile app development services in Delhi in the below details:
Native:

An app is created utilizing the native APIs of a particular platform. As a result, it is effective and has complete access to the device's capabilities. The ecosystem of the platform, such as an app store, aids in the distribution of the app. The same code cannot be used on different platforms. Examples include Windows Phone (C#.NET), Android (Kotlin or Java), and iOS (Swift or Objective-C).



Hybrid:

These apps function through web browsers but can be loaded on devices exactly like native apps. Each and every hybrid app is created using the HTML5 programming language. Hybrid apps offer a larger capacity for easing the development process but not being as quick or dependable as native apps. Your company can save time and money by not having to develop and maintain apps for many platforms. It's perfect for applications that focus on content delivery.



Web:

A web browser is used to deliver an app that was created using web technologies. These are typically web applications with responsive design, which allows them to function well on all sizes of devices. Since the server contains business logic, only one codebase needs to be maintained. Nothing has to be downloaded from app stores.
Say Bye To Searching; Hire The Best Mobile App Development Company In Delhi!
We all aspire to hunt for the best. However, we sometimes are completely unaware of the good things close to us. Since all product-based leading organizations run after searching for the best Mobile app development company in Delhi or different worldwide locations, it's crucial to understand the basis to select them. If only experience could work this potent, the competition would not have dominated the entire market. There are certainly other different things to take care of while hiring a mobile app development agency in Delhi. We, being experienced along with a wider team of skilled QAs, digital marketers, content writers, UI/UX designers, developers, and social media optimizers, work tirelessly to meet our client's specific business goals and objectives. Visit www.vyaparinfotech.com, to know more.

11+
Years Experience

10562+
Completed Projects

100+
Industry Served

115+
Awards