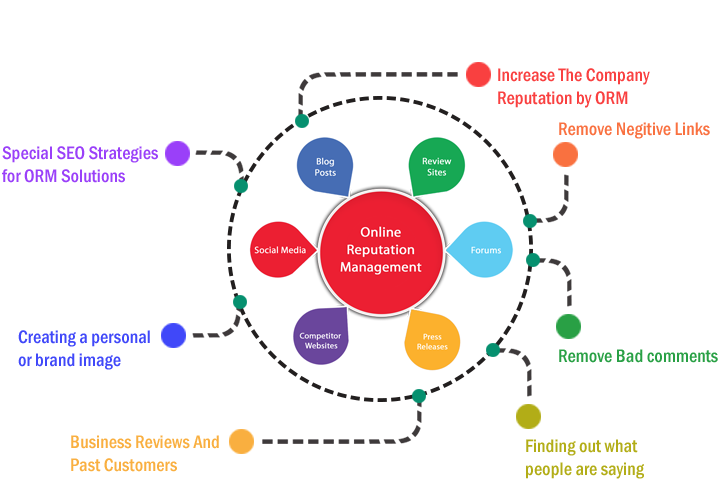 Since maintaining and/or repairing one's online reputation is crucial, many businesses and professions seek a competent Online Reputation Management Company. Online Reputation Management (ORM) services assist in strategic corporate branding for your business, enhance client interaction, and develop a strong online presence.
To meet all of your needs, consider Vyapar Infotech, the leading Online Reputation Management Agency in India.
Our team of ORM experts employs the most effective methods in addition to a combination of paid and unpaid marketing efforts to strengthen your brand's perception within the intended audience. We assess your company's current web image using various statistical tools and several manual questionnaires.
Establishing a favorable image for your organization and repairing any damaged reputation of your goods are ongoing processes that place a high value on customer-focused products. Online reputation management guarantees that any defamation action or remark that negatively impacts the brand is handled at the appropriate moment to prevent it from snowballing into an untenable scenario. Additionally, ORM services remove false material and lie to make it simpler for internet users and search engines to find accurate information when researching their company.
In a nutshell, rather than letting web content say for itself, it enables you to construct an excellent brand picture or perception. Good reviews on the internet could be widespread with the usefulness of an Online Reputation Management Company. Imagine how much of an advantage it would be for your firm.
Here comes the prominent yet worthiest digital marketing tool that encircles constant monitoring and improvisation of your business page performance. It's imperative for every organization to ensure their company is represented reputedly online and their target audience is content with that. In the case of vice versa, a company squanders the entire digital marketing effort and everything being invested like time, finance, etc. Vyapar Infotech is a prime Online Reputation Management (ORM) agency where everything from its root is served in digital marketing. Our team of dedicated professionals persistently monitor web activities and work on how business is viewed online. Whether it's analyzing how potential customers notice your brand or discovering what makes them search for your business, our specialists are just excellent.
Manage Your Brand's Digital Value With Us!
Brand Monitoring:

We employ the best tool designed to manage your online business reputation and help you regulate activities that may hamper the desired goal.



Prioritizing Tasks:

Our team of brilliant professionals sticks by one plan to proceed with your brand's good image in the market. We prioritize our tasks promptly to make sure that all critical and challenging tasks are performed delicately.



Positive Reviews:

90% of the users get impacted by online reviews. We constantly strive to build your brand's online reputation by marking it as the top-rated among competitors.
Choose Vyapar Infotech First-Rated ORM Solutions
Impacting Purchase:

Vyapar Infotech is committed to quality results, whether it's bringing immense traffic to web pages or enriching the brand's reputation in the market. Our team continuously attempts to impact customers' buying decisions by conducting the ideal goodwill of your brand.



Online Reputation:

We truly understand how it's critical and challenging to create a good brand name where endless competitors are aspiring for the same. To make your business stand over word-of-mouth, we deal with negative reviews and comments by eliminating the false ones.



Valuable Feedback:

Timely monitoring of business web pages is extremely imperative to avoid last moment rush. We enable potential customers to provide customer satisfaction and feedback to ensure your business gets valuable feedback, and thus, we can improve its progress.



Regulating Flaws:

A false news or comment is enough to deteriorate your brand's name, which we never underestimate in any manner. We constantly monitor webpage activities and alleviate any such negative reviews given mistakenly or to make a wrong purpose.

11+
Years Experience

10562+
Completed Projects

100+
Industry Served

115+
Awards