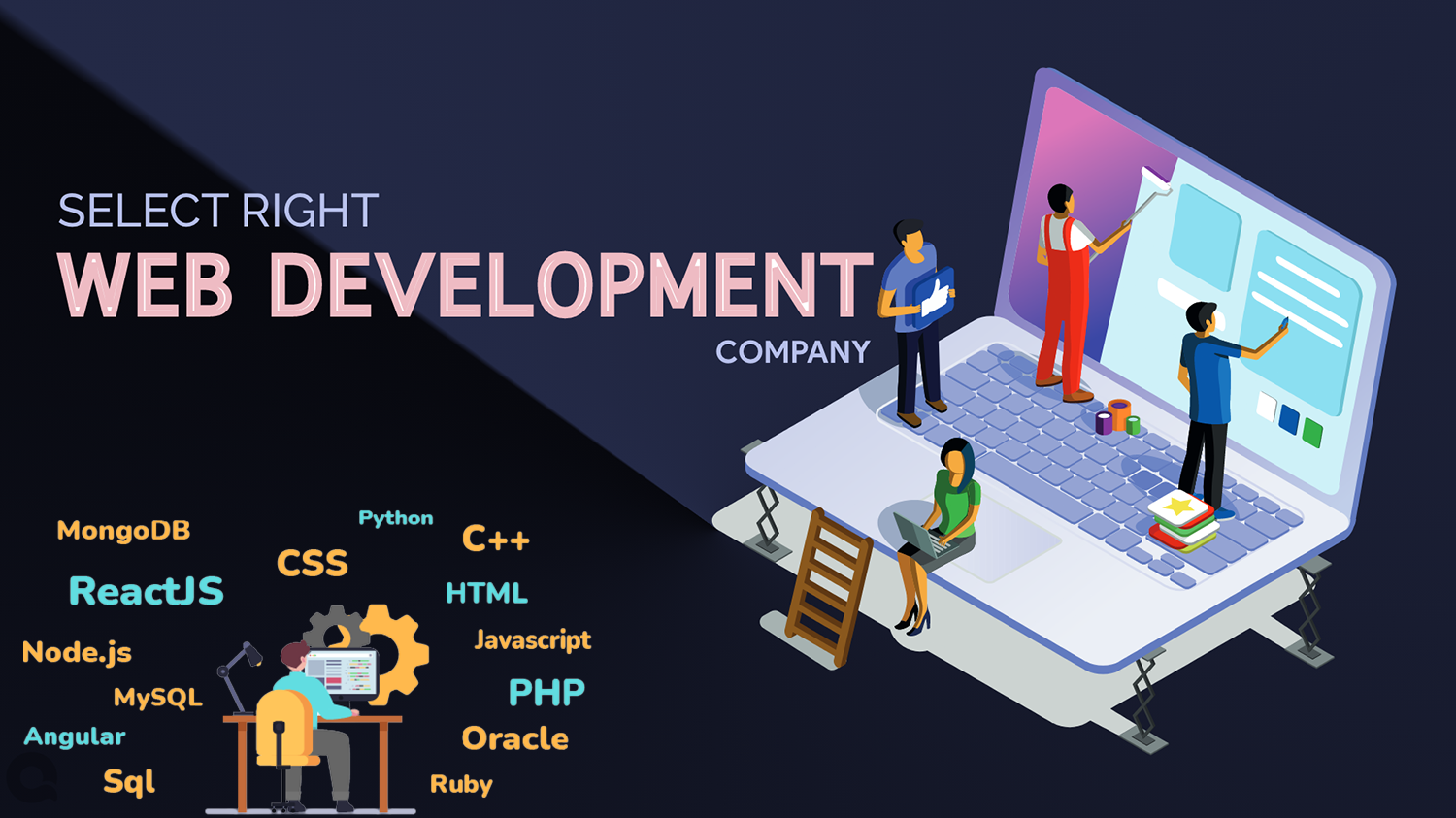 An online business without web development is similar to fish without an aquarium. Any business leader, product head, or entrepreneur of a newly established e-commerce business needs a platform to showcase its product, services, and other necessary details to the audience. For that purpose, they will require the assistance and support of a proficient web development company in Delhi or anywhere within the nation.
The importance of web development for any small or large-scale organization can be analyzed via the fact that web development services offer an array of business solutions to a firm. Depending on the clients' requirements, web developers build a web application ensuring cybersecurity, testing, UI/UX design, maintenance, and everything required. All these factors completely depend on the project and clients' needs. Overall, web development services in Delhi cover a vast range of things that are best defined in the below details.
Web Development: A Route To Building Online Presence!
The ever-changing technologies and emerging needs & demands of consumers led to fierce competition in the trading & e-commerce businesses digitally. Almost every second brand and enterprise are opting for innovative tools and applications in order to be at the top of the market. And this is the potential reason why web development service in Delhi, India is so imperatively renowned and requested.
Now, let's try to understand what web development exactly is and who performs it. Basically, it is a procedure for creating materials that build your business or brand's online presence. It requires intensive planning, well-identification of business needs & goals, research, analysis, content, and skilled coders.
One can better understand web development business solutions as a platform that turns visitors into customers. Every business owner or brand promoter needs a bridge to communicate and facilitate its audience's needs. A website application development is the same bridge that seeks what your customers are looking for and tries to cater to their needs in the most dignified and contented manner.
Not only the publishing content about the product or services that the business deals in, but also adequate knowledge of handling social media and technical challenges must be in the loop. Web development for any business requires publishing content, images, draft, audio, videos, themes, and so much more. Without the mentioned specifications, it's hard to build a website for any product, brand, service, or, eventually, business. Coming back to the track of who performs web development services, Developers or coders are the retorts. People who have an academic background in coding under specific or different languages write codes, prepare a website's structure, and verify the code's functionality to ascertain a proper operational web application or software solution.
Roles/Tasks Of Web Developers:
There are endless roles and responsibilities that a programmer has to take into consideration throughout the entire programming part. Though, there are many tasks that come under any developer's list. It all depends on the type of project, the client's requirements, and varying technological aspects. Below are some of the prominent roles and tasks of a web developer, whether freelancer or agency employed.
Designing user interfaces and menus for mobility

Composing and evaluating website code, usually in HTML, XML, or JavaScript

Incorporating multimedia into a website

Web application testing

Solving issues with user experience or performance

Cooperating with stakeholders, designers, and developers
Types Of Web Developers:
Not only just developing a website for any project of a client but also ensuring the user-friendliness, easy navigation, enticing color, graphics, designs, images, texts, and videos, a web developer has to embed a lot of things into a web creation. Substantially, webmasters are responsible for a lot of important factors for website development. That's why they are of different types, which we all need to understand profoundly.
Web developers typically fall under either one or all of the below-mentioned categories. The competent ones are sometimes skilled in all three categories, which is why they are renowned and most called in the markets.
Back-End Web Developers:

They design the web site's structure, write the code, and check if that code is functional. Their duties may also involve controlling access points for anyone who should control site content.
Front-End Web Developers:

They focus on the website's visual elements, or the columns that users see and engage with (also known as the user interface). They construct the actual page layouts, incorporate visuals, and improve the site with HTML and JavaScript.
Full-Stack Engineers:

They handle both the front-end and back-end activities. These coders can create an entire website and may work for companies that lack the funding for a large website staff.
Webmasters:

In essence, webmasters are website managers. Their main duty is to maintain the website and make sure that all of the connections and applications are functional on every page.
Kinds Of Web Development Services:
There are multiple things that a web development company in Delhi offers for overall web maintenance and its operations. Since now you've understood what website development includes, you must also know what you would choose among such a vast range of services. Below are the types of web development services in Delhi that you opt to enrich your enterprise growth.
Web Maintenance:

Having a website isn't just all you need. An outdated homepage would not be appealing to your customers. You must therefore keep your website updated, stylish, and innovative. Organizations sign up for

website development services in Delhi

to keep the site fresh. Comprehensive website maintenance may result in a rise in traffic, leads, search engine rankings, and the establishment of a more dependable brand. It is the service provider's duty to remove malware, flaws, and viruses from the website. Additionally, text corrections and basic graphic editing must also be considered. The client will also receive monthly data on website performance and traffic.
Custom Website Development:

The first thing that the web development business will inquire about is if you already have a business site. If "no," the web development team would have to start from scratch and build your website. If there is insufficient data and information, this process could be arduous and lengthy. To start from scratch, you will require a thorough SWOT analysis of both your company and your competitors. Discover the distinctive features of your competitors' websites, then contrast them with your own strengths and faults. The logo, design, color branding, and graphics are some of the additional requirements.
Types Of Website Applications:
There are numerous types of websites, and each is specifically designed for the company. The most common website types are shown below, so you can choose one that best matches your business:
E-Commerce: The company can showcase its goods and services, together with the associated prices, on an eCommerce website. Customers make their selections from the offerings and pay via the website's payment gateway. Corporate websites can also showcase goods and services, but they do not support payments. Combining corporate and eCommerce is one of the most effective web development tactics that small firms use. Customers can find information and products on your website. You may also include a blog page for content marketing as an addition to that.
Portals:

The majority of the time, portals are used internally, whether in a business, organization, or even a school. To access documents, files, and many other resources in one location, employees, staff, or students must first log into the portal website.
Portfolio:

A portfolio website, like a real portfolio, showcases pictures or content from earlier projects that demonstrate your abilities or company. In the creative sector, portfolios are typically employed, but customers are becoming more dubious of corporate transactions. They require assurances of high-caliber output.
Corporate:

Every new business needs a corporate website. Do you still remember how everyone used the internet? When someone learns about your company, the first thing they'll try to do is look it up online. How can people confirm that you are reputable and legitimate without your company having a website? It's possible that corporate websites don't sell goods or services directly. Corporate websites serve the function of disseminating facts about your company. Potential customers will know how to contact you in this way.
Why Must You Need Business Development Services In Delhi?
With the introduction of new technologies, it is very simple to brush up on the best chances that are available. When one lacks the knowledge to capitalize on these shifts, the situation becomes even worse. This is the situation faced by companies with little experience in website creation and design.
The way that the business sector operates has been significantly altered by website development services in Delhi. Therefore, below is the relevant information for serious business owners or organizations who want to understand the significance of web development.
Boosting Business Sales: More entrepreneurs are rushing to perform their commercial operations online these days. This results from the tremendous possibility they have seen to profit from online sales. The growth in customers is correlated with a rise in sales.
Webmasters are urged to publish updates in order to further promote sales. The website functions are improved through updates and improvements. Additionally, it demonstrates to customers that the business is committed to providing top-notch services and information.
Connecting To Far-Away Clients: Growing the consumer base of a business is one of its primary objectives. There are many various ways to accomplish this, but they all provide different outcomes. There have been some significant advancements in web development and design.
The first benefit is that it promotes the brand name. Essentially, a corporation is on a worldwide platform when its website is accessible via the World Wide Web. This implies that the hidden business can be looked up and offer goods to clients who are located far away.
Productive In Business Marketing & Promotion: A business can present all relevant data using this web platform. Products/services supplied, location, cost, reputation, and contacts are just a few examples. The website owner can easily add enticing deals to the page.
Surprisingly, it is simpler to maintain a website with great discounts and deals. As a result, there is no waiting while the advertisement is posted. The same situation happens whether the business wants to remove a blog article or an advertisement.
Easy Navigation For Worldwide Users: A good online platform must allow for simple navigation for the user. In essence, the website's information should be simple to obtain. It is therefore expected that the pages would load quickly.
Therefore, a website like an online auto parts store must include options to further facilitate navigation. This includes a search box being present. Users can enter keywords here to quickly be taken to the section using the search function. This is accomplished by an exemplary web development service in Delhi.
Presenting Visual Content Via Web Development:

The owner of the business has the option to select the photographs to be used by working with a qualified

web development company in Delhi. The business is also free to decide how many promotional videos and photos to use. Search engine optimization will serve as guidance in this.
Utilizing visual material has the advantage of giving users a clear representation of what the product looks like. Evidently, not all buyers are familiar with the services or goods that are advertised through text. Therefore, it is straightforward to convey the message when visuals are used.
Choose The Most Trusted & Reputed Web Development Company In Delhi!
Vyapar Infotech, being qualified, dedicated, and most trusted in the market, can develop your business website from scratch. Advanced in the latest technologies, tools, and techniques; it is a proficient and highly reputed web development company in Delhi to rely on. While working with many clients of different niches, its web development and designing team is just ready to put in the best of their effort to serve excellent business results to worldwide business owners & entrepreneurs.

11+
Years Experience

10562+
Completed Projects

100+
Industry Served

115+
Awards