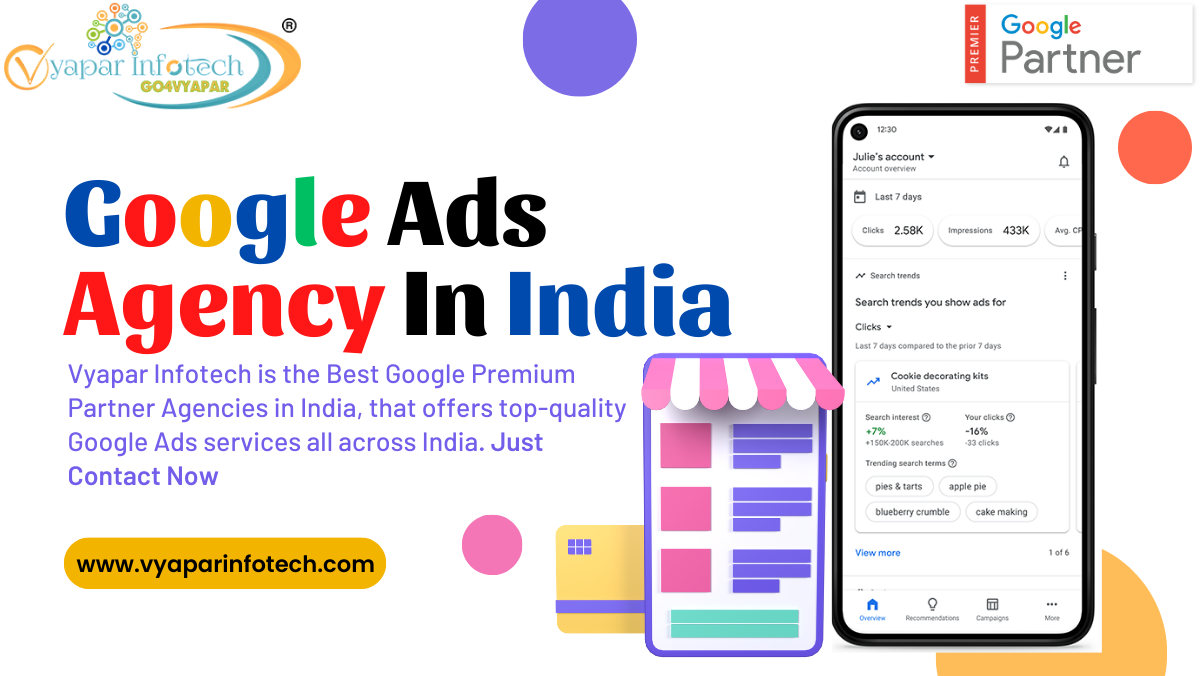 Google Ads Agency In India
A business needs to maximize its internet presence to generate sales. The assurance of greater visibility and more significant traffic to your website comes from good referencing. Search engine optimization (SEO) strategies can be used to promote your website and develop marketing initiatives such as Google Ads.
Your campaigns will be developed, improved upon, and managed by a Google Ads agency. How do you pick the best partner for your company? Here are some factors you should consider while looking for the Best Google ads agency in India.
Professional Competency: You should always locate businesses with Google Partner accreditation. If you can't locate one, explore the Top Google ads agency in India on the internet and learn more about the company's verification. Google awards a Google Partner emblem to businesses that have proven their proficiency in Google Ads competencies, achieved ad spend standards, excelled in revenue and profit, and expanded their clientele. An agency will be happy to display this certificate on its website. You may learn more about the company's certification, different sorts of partnerships, and each office's Google certification.


Industry Reputation: The popularity and diversity of Indian ad agency's clients can also be used to gauge its effectiveness. If you want to take things a step further, get in touch with the customers directly to find out what they think of the service. Consider keeping an eye on what is being said about them online as well. The company should have a flawless online reputation and must meet today's modern business expectation criteria of rendering remarkable results in the industry.


Competitive Pricing: Million-dollar Google ads campaigns are not accepted by the Best Google ads services in India. They are the ones who can accomplish corporate goals on a meager Google ads budget. To do this, the best Google ads experts first decide how much money will be spent on the search product or service that the customer wants to advertise, considering the demand and competition. Before creating a flexible allocation plan, seasoned Google ads managers must understand the client's goals and Google ad budget. Professional Google ads managers typically choose search over display when dealing with a tight budget. They keep improving budget distribution in response to shifting needs.


Transparency: One should desire complete transparency from any Google ads management agency in India. It is the cornerstone of a solid and enduring partnership, after all. Google also expects your business to be open and honest with you and would want you to be aware of the money you spent on ads as well as the views and clicks they attracted. Now, a Google-certified firm is honest with you regarding your advertising expenses because they are aware of this. They also have it in their contracts and legal terms. However, sometimes many non-certified firms deny you access to your metrics, despite having a right to these responses.


Customer Understanding & Experience: Understanding your consumer and buyer personas is crucial for the Google ad marketing agency in Delhi. You need to be aware of how effectively the agency has understood the market and your business strategy. It's generally advised to work with a Google ad agency that has experience in your industry. You may determine the type of industry they have worked in and their success rate by learning more about the Google ad agency's history and previous client projects. For help making a decision, find out about their effective live marketing. Select businesses with experience in your field to help you save a lot of time.


Knowledge About Campaigns Running: As was said before, Google ads specialists specialize in specific areas of Google advertisements administration. In light of this, it would be beneficial to have more clarity on your goals in order to better match them with the skills at your disposal. For instance, a campaign audit could help you straighten out your act. Or perhaps you're searching for comprehensive ad management solutions for active campaigns. The list continues. You might merely require help with the bidding process. Prior to choosing the core skill set, first, grasp the objectives of your organization. You might also formulate this assignment as a question and seek the Google advertising partner Company in Delhi, India on how to achieve the corporate goals.


Proven Track Of Record: You always have the option to ask for a sample of a possible Google Ads services provider's previous work. To evaluate their effectiveness, request case studies just before campaign data, anonymized campaign data, and references. The good news is that many PPC companies have this information on their websites. Having said that, you always have the right to request any information you require in order to verify the working proof of the Google Ads Agency In Delhi. Make sure you look at how they have consistently performed over time.
Parting Thoughts!
Any company can benefit from having a Google AdWords expert on staff. They expertly oversee campaigns, maximize profits, and position your company for expansion. However, you should actually think twice about how you'll go about hiring the best Google ads management company in Delhi, India before you blindly follow the crowd. Fortunately, the preceding instruction will assist you.
Vyapar Infotech, being an experienced yet professional Google ads expert in India, caters to all your PPC needs at competitive pricing. Choosing it can certainly be your decision, but making this organization a lifetime choice lies in its unrivaled solution renderings.