PHP Web Development
PHP stands for PHP Hypertext Preprocessor. A server-side scripting language is necessary for any business to create dynamic web pages so that interactions with databases can take place smoothly. It is one of the widely used open-source languages that expertise can be best employed to boost web application development. This source is quite enclosed with the HTML part. Such a powerful programming language plays a vital role in digital marketing organizations that are both static and dynamic in nature. Whether you have a startup, multi-media agency, or advertising firm, PHP web development Services is a treasure not to miss employing rapid business growth.
Server-side scripting language PHP has a lot to offer developers in terms of advantages. Since then, a lot of developers all over the world have been using it to create extremely effective websites. Because PHP accesses its own memory, there is less to be done on the server, substantially reducing loading times. This shortens the overall development process, particularly for CRM and e-commerce apps. Most of the businesses we've encountered are primarily concerned about security. A protection layer built into PHP guards against risks and viruses. Thus, one of the safest methods for creating websites and web apps is through PHP web development Company In Delhi.
We have a solid reputation as the industry's leading web design and development firm because of our highly skilled and committed team. Being a reputable PHP web development company in India with many years of experience, we promise to design excellent, adaptable, and engaging websites for our customers. The server-based scripting language PHP, which can produce dynamic web programmes for your company, is well familiar to our development team. To meet your objectives, we can deliver a corporate web app that is simple to use. We at Vyapar Infotech create powerful and adaptable PHP websites using frameworks and content management systems like WordPress. Along with our proficiency in PHP, CMS development for platforms Drupal, and others, we work with all of the major PHP frameworks, including Laravel and Codeigniter.
At extremely affordable prices, the Vyapar Infotech team offers the best PHP web development solutions with the help of highly skilled development and design staff. In just three years, we were able to create numerous websites. With countless websites, we have now provided IT services not only in India but in different countries too, and all of our clients are delighted. We offer our clients all over the world PHP development services. Our superior customer business-driven approach distinguishes us from others, and makes us the perfect PHP web development agency in India.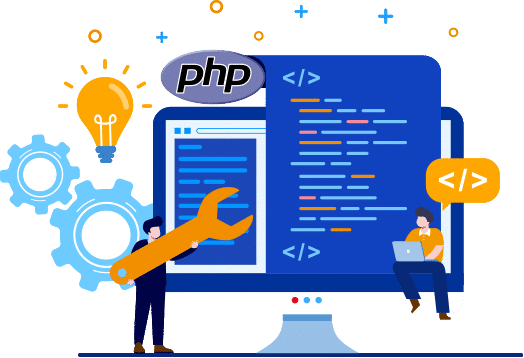 PHP Web Development
Our Tailored PHP Web Development Solutions

01
Custom PHP Website Development
Vyapar Infotech aims to create responsive, data-driven, mobile & user-friendly websites for our clients depending on their business needs and type.

02
Integration Scenarios
To connect with all types of databases hassle-freely and to make the integration procedure even easy, our PHP developers strive to create APIs for trusted and well-documented websites.

03
Full-Stack PHP Development
Our PHP website development solutions comprise a full-stack scale. From the top-notch Backened & frontend development of the website to elite UX/UI designing, we ensure employing PHP knowledge at all stages of website creation.
Versatile
Add a dynamic upgrade to your business webpage to easily and rapidly connect with databases. You can support many web browsers at a time like Mac OS, Windows, Linux, etc. because PHP web development renders more flexibility.
Rapid & Secure
It helps your business website and applications to become rapid and secure in every facet. From accelerating the operations of new versions to using its own memory for ensuring a fast & fastened web page, PHP is a magnificent source for webpage security i
Database Connection
With PHP experts, it becomes way effortless to choose a database for your built business applications. You can best employ Vyapar Infotech expertise to securely and quickly connect with any type of database required in your digital business.
Verified
PHP is one of the most reliable yet popular programming languages, and its role is certainly imperative to boost the web page's functionality. PHP, after fixing bugs, has become the accurate, tested, and verified programming language among developers.